Addalyn Ymker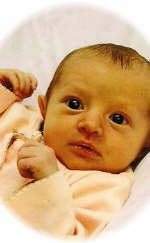 Addalyn Ymker - 41 days, died Sunday, March 2, 2014 in Sanford Children's Hospital. Funeral services will be Thursday March 6, 2014 at the Netherland Reformed Church, Corsica at 10:30 a.m.. A visitation will be held Wednesday, March 5 from 6-8 p.m. at the Netherland Reformed Christian School gym.
Addalyn was born Jan. 20, 2014 at the Douglas County Memorial Hospital in Armour, S.D. to Nathan and Alyssa Ymker.
She is survived by her parents, a brother- Cameron, a sister- Allyson; grandparents Calvin & Evelyn Spaans, Jay & Ellen Ymker; great grandparent- Clazina Spaans, Pete & Carol Wesseling; great-great-grandparent- Gertrude Wesseling.
Preceded in death by her great grandparents Mr. & Mrs. Clarence Langstraat, Mr. & Mrs. Herman Ymker, Mr. Herman Spaans
In lieu of flowers please make memorials to the Netherlands Reformed Christian School.