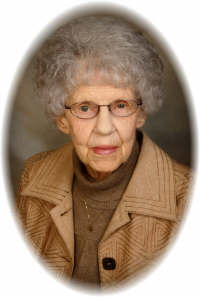 Adrianna DeLange, 92, died at Avera McKennan Hospital on Saturday, May 28, 2011. Funeral service will be Thursday, June 2, 2011 at 10:30 AM at Harrison Christian Reformed Church in Harrison with burial following in Harrison City Cemetery. Visitation will be Wednesday, June 1, 2011 from 6 - 8 PM at Koehn Bros. Funeral Chapel in Corsica with a prayer service at 7:00 PM.
Adrianna DeLange was born on October 6, 1918 on a farm south of Harrison, SD to Engel and Marie (Brink) Plooster in Douglas County, SD. She made profession of her faith in the First Reformed Church and later had her membership transferred to Harrison Christian Reformed Church. She belonged to the Ladies Aide and Guild and was a charter member of the American Legion Auxiliary. She graduated from Corsica High School and attended NYA ( National Youth Administration) in White Lake, SD. On April 22, 1943 she married Heyme DeLange. While Heyme served in the military in California and Texas, she worked as a nanny and in the Proctor and Gamble Soap Factory. After Heyme's discharge, they returned to Northwest Douglas County and farmed for 37 years on the DeLange home place and raised their three children, Gene, Mari, and Jay. Following their retirement in March of 1984, they moved to Corsica. The blessing of family and friends was her greatest joy. She died on Saturday, May 28, 2011 at Avera St. Benedict Hospital in Sioux Falls, SD at the age of 92.
She will be lovingly remembered by 2 children, Mari Beebe of Sioux Falls, SD and Jay (Tammy) DeLange of Watertown, SD, five grandchildren, Troy (Anne), Greg, Justin, AJ, and Morgan, three great-grandchildren, sister, Elsie Jongsma, 2 brothers, Arlo (Arlene) Plooster and Dean (Marlene) Plooster, brother-in-law and sister-in-law, Junior (Jeanette) DeLange, and many nieces and nephews.
She was preceded in death were her son, Gene, son, Gene, granddaughter, Pam, parents, brother, Willard Plooster, and sister, Antoinette Everson.