Amy DeVries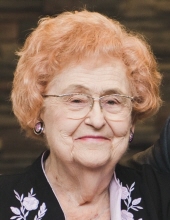 Wilamy (Amy) DeVries of Omaha, Nebraska, Age 96, died Sunday, February 23, 2020. A visitation will be from 1PM to 3 PM Sunday, March 1, 2020 and a memorial service will be at 3 PM Sunday, March 1, 2020 at Braman Mortuary, 6505 S. 144th St., Omaha, NE 68137. A funeral will be held at 10 AM Monday, March 2, 2020 at Grandview Reformed Church, 27991 US 281, Armour, SD 57313 with burial following the funeral.
Amy was born on April 3, 1923 and raised on a farm near Harrison, South Dakota. She was the daughter of Jacob and Bertha (Nieuwenhuis) De Waard. Amy had 2 brothers and 4 sisters, Corstiaan DeWaard, Walter DeWaard, Eunice VanderWerff, Phyllis VanZee, Joyce Krediet and Adalee Scholten. Amy was married to Evert DeVries for 74 years until he passed away in 2015. They raised six daughters, Nyla (Adrian) Landegent, Judy (Leonard) Smith, Beverly (Duane) Eckhoff, Lucy (David) Ham, Laurel (Bill) Hargis, and Christine (Bruce) Moss. Their married lives had them farming in Douglas County, South Dakota for 25 years until they moved to Omaha, Nebraska in 1966.
Amy was a skilled seamstress, tailor and artistically talented in knitting, crocheting, quilting, poetry, and making all kinds of gifts. Her love language was giving and very few people left her home without taking something home with them. Coffee and dessert was always on and ready to be served as a tradition in their home in case a guest, neighbor or friend happened to stop by. She was a faithful, Godly believer and willing to help whenever asked to do so.
She is survived by her six daughters, their husbands, sister in law Pearl DeLange, 11 grandchildren, seventeen great grandchildren, two great-great grandchildren and many dear friends and extended family. Amy was preceded in death by Evert DeVries, her parents, her siblings and son in law Adrian Landegent.
A special thank you to the staff at Rose Blumkin Jewish Home for their great and tender care given to Amy during her stay. The family asks that any memorial contributions be made to Grandview Reformed Church or the charity of your choice.