Andy Spaans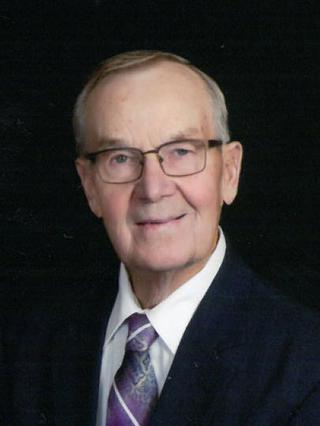 Andy Spaans, age 77, of Mitchell, SD died Thursday, January 2, 2020 at Sanford USD School of Medicine Hospital in Sioux Falls, SD. Funeral services will be 11:00 AM Wednesday, January 8, 2020 at the Netherlands Reformed Church, Corsica, SD with burial at Graceland Cemetery in Corsica, SD. Visitation will be from 5:00 PM to 8:00 PM Tuesday, January 7, 2020 at the Will Funeral Chapel in Mitchell, SD with a prayer service beginning at 7:00 PM.
Andy Spaans, son of Dick and Tena (Zomer) Spaans, was born in rural Douglas County, SD. He was united in marriage with Doris Groen on August 24, 1962 in Corsica, SD. The couple have been married for 57 years.
He worked for Spaans Bros Trucking until he started farming near Stickney, SD. Andy continued farming until 2010. He loved farming and trying new techniques for farming. Andy was always interested in conservation. He enjoyed raising cattle and for many years, Andy raised Registered Black Angus and sold yearling bulls for several years. In his spare time, he also enjoyed fishing and hunting.
Andy and Doris moved to Mitchell in 2008 when they retired. Andy then continued to expand his hobby of collecting and restoring antique tractors, mainly John Deere Tractors. He enjoyed having coffee with his "Cubby" buddies. Andy truly loved meeting and visiting with people.
Andy had one sister, Nellie (Pete Bouma); 11 brothers, Herman (Calzina), Cornie (Pauline), John (JoAnne). Henry (Martina), Albert (Hermina), Dick Jr (Madelyn), Leonard (Elizabeth), James (Cathy), Adrian (Betty), Marvin (Rosalie) and Ben (Betty).
He is survived by his wife, Doris Spaans, Mitchell, SD; two brothers, Leonard (Elizabeth) Spaans, Larchwood, IA, Ben (Betty) Spaans, Corsica, SD; sisters-in-law, Pauline Spaans, Corsica, SD, JoAnne Spaans, Grand Rapids, MI, Martina D. Feyter, Grand Rapids, MI, Hermina Van Veldhuizen, Rock Valley, IA, Madelyn Spaans, Grand Rapids, MI, Cathy Spaans, Grand Rapids, MI, Rosalie Spaans, Sioux Falls, SD and Betty Spaans, Grand Rapids, MI; his mother-in-law, Grace Groen, Mitchell, SD; Doris's siblings, Betty (Tom) Strehlow, Mitchell, SD, Jane (Ron) Gerlach, Stickney, SD, Lois (Duane) Lubbers, Minneapolis, MN, Dick (Pam) Groen, Mitchell, SD; and many nieces and nephews which were all special to Andy.
He was preceded in death by his parents; his father-in-law, Lyle Groen; a sister, Nellie (Pete) Bouma; nine brothers, Herman (Calzina) Spaans, Cornie Spaans, John Spaans, Henry Spaans, Albert Spaans, Dick Spaans Jr., Jim Spaans, Adrian Spaans, and Marvin Spaans.
Memorials preferred instead of flowers.