Anna Rus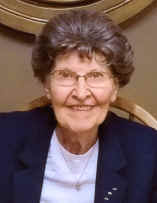 Anna Rus, 93, died at Good Samaritan Society in Corsica on Wednesday, December 4, 2019. Funeral service will be Tuesday, December 10, 2019 at 10:30 AM at Netherlands Reformed Congregation in Corsica with burial following in Graceland Cemetery in Corsica. Visitation will be Monday, December 9, 2019 from 6:00 - 7:30 PM at Netherlands Reformed Gym with a prayer service at 7:00 PM. Arrangements by Koehn Bros. Funeral Home in Armour.
Anna Rus was born on April 26, 1926 to Leendert and Jennie (Zomer) Rus in Douglas County, SD. She attended Plainview School near Corsica. She worked in Michigan before returning to South Dakota when she received her nursing certificate from Sioux Valley Hospital School of Nursing is Sioux Falls. She returned to Corsica where she worked at Douglas County Memorial Hospital in Armour in surgery and medical records for many years. Ann was also a certified massage therapist for over 15 years. She was a member of Netherlands Reformed Congregation, active member of the Rebecca Circle which she was past president for many years. She enjoyed cooking, knitting, crocheting, crafts, quilting, embroidery, traveling, and visiting with friends. She died at Good Samaritan Society in Corsica on Wednesday, December 4, 2019 at the age of 93.
She is survived by a sister, Cobie Frens and husband, Henry of Waupan, WI, and many nieces and nephews.
She was preceded in death by her parents, 3 brothers, Jakie, Herman, and John Rus and wife, Hattie, and sister, Cora Teunissen and husband, Gerrit John.
Officiating Rev. J. Witvoet
Music Leah Rus, organist
Casket Bearers Gary Teunissen, Steve Johnson, Gerald Teunissen, Kenneth Teunissen, Henry Rus, Jack Rus, Arnold Rus, Leonard Frens