Arnold Mulder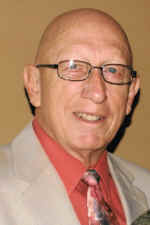 Arnold "Arnie" Mulder, 78, of New Holland, SD passed away Wednesday, April 1, 2015 at the Good Samaritan Society in Corsica, SD. Funeral Services are 10:30 A.M. Monday, April 6, 2015 at the New Holland Christian Reformed Church. A Committal Service with Military Honors will follow at the New Holland Cemetery. Visitation will be held from 3:00 – 5:00 P.M. on Sunday, April 5, 2015 at Mount Funeral Home in Platte, SD with a 5:00 P.M. Prayer Service. Memorials in Arnie's honor may be directed to: New Holland CRC Fellowship Hall Fund, PO Box 3, New Holland, SD 57364 or Dakota Christian School, 37614 SD Hwy 44, Corsica, SD 57328.

Arnold Edwin Mulder was born on March 5, 1937 to Edward and Minnie (Keuning) Mulder in New Holland, SD. He graduated from Corsica High School in 1955 and was inducted into the US Army on September 15, 1960. He served as Company Clerk at Fort Gordon, GA and enjoyed playing softball while in the service. On November 14, 1961 Arnie was united in marriage to Joan Dyk at the Platte Christian Reformed Church. Following his honorable discharge September 14, 1962, he drove milk truck and worked at various employments. In 1967 they relocated to Omaha, NE where he attended the Universal Trade School to receive training in refrigeration and heating.

Arnie was then employed with the Tri-County Electric Association from 1969 until retiring in 1999 after 30 years in the industry. He was a member of the New Holland Christian Reformed Church, serving on the Council as an Elder and Treasurer for 14 years, as well as Treasurer for the Dakota Christian School Board for 14 years. Arnie was a member of the Everson-Beukelman American Legion Post #274 of Corsica, SD and also enjoyed golfing and photography.

Grateful for having shared in Arnie's life: his wife of 53 years, Joan Mulder of New Holland, SD; three children: Jolinda (Doug) Kaemingk of Platte, SD, Michael (Tracey) Mulder of Newark, CA and Stacey (Clary) Kloosterhof of Langley, B.C.; seven grandchildren: Matthew, Jessica and Luke Kaemingk, Haley, Willem, Micah and Hadassah Kloosterhof; his mother, Minnie Mulder of Corsica, SD; a sister, Sharon (Dalwyn) Vanden Hoek of Rapid City, SD; a brother, Ken (Beth) Mulder of Grand Rapids, MI; along with many nieces, nephews, cousins and friends.

Arnie was preceded in death by his father, Ed Mulder and a sister, Helen De Vries.