Arvin Vanden Berge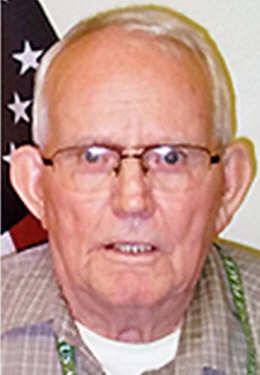 Mr. Arvin Lagene Vanden Berge, 89, most recently of Kearney, NE passed away in the morning of April 13, 2017. He was preceded in death by his wife, Jessie (Overweg) Vanden Berge; his parents, Leendert (Lane) and Jennie (Bordewyk) Vanden Berge; and three brothers, Kenneth, Glenn and Calvin. Arvin is survived by his children: Leon (Jodi) Vanden Berge of Kearney, NE; Sharon (Rick) Heying of Mitchell, SD; Shirley (Matt) Kosmicki of Charlotte, NC and Wayne (Jill) Vanden Berge of Dubuque, IA; ten grandchildren; three great-grandchildren and 3 sisters: Eileen Nelson of Milbank, SD, Betty Lamp of Burke, SD and Ruby Lindeman of Selby, SD.
Arvin was born March 6, 1928 in Douglas County and spent his youth there, attending Harrison School until the eighth grade. He entered military service on March 22, 1951. After completing his basic training at Fort Lewis, WA, he served with the 11th antiaircraft Artillery Automatic Weapons Battalion in Europe. He was honorably discharged on February 17, 1953 with the rank of Corporal and returned to the family farm in South Dakota. He married the former Jessie Overweg on May 2, 1957 and the couple farmed in Aurora County until shortly after Jessie's death in 1996. He then moved into Stickney and had several enjoyable years of fishing, playing cards and attending local high school sporting events. Arvin was a life long member of Harrison Reformed Church serving there as both elder and deacon. When his health began to decline, he relocated to Leisure Living in Corsica and then moved to Kearney, NE to be close to his eldest son, Leon.
Funeral service will be Monday, April 17, 2017 at 10:00 am at the north Harrison Reformed Church in Harrison with interment services occurring immediately thereafter in the Harrison Cemetery. Family visitation will be Sunday, April 16 from 5 to 7 pm with a 7:00 pm prayer service at Koehn Bros. Funeral Home in Stickney.
Memorials would be preferred in lieu of flowers and may be directed to the Harrison Cemetery Association.