Bernice Menning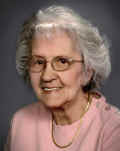 Bernice D. Menning passed away peacefully with her family by her side at Sanford Chamberlain Medical Center in Chamberlain on October 28, 2015, at the age of 94.
Bernice was born on April 11, 1921, on a farm near Corsica to Fred and Ann Plooster. She graduated from Corsica High School and then Southern State Teachers College in Springfield, with a one-year teaching degree. She married Lloyd Menning, also of Corsica, in 1943, and they remained lovingly married for 52 years until Lloyd's passing in 1995. Together they welcomed and raised three children.
Bernice loved her work as a teacher. She worked for five years educating students in grades 1-8 in a rural schoolhouse. Following the arrival of her first child, she worked as a bookkeeper for her husband's farm implement and appliance businesses. In their retirement years, Bernice and Lloyd enjoyed traveling together with friends and family, often visiting warmer climates during the chilly winter months.
Bernice also dedicated her life to Grace Reform Church, where she served in various capacities. During her years with the Church, she taught Sunday School, Vacation Bible School, Catechism, and Bible Studies. She also served in the Missionary Society, and was an organist for the Church for 25 years.
Above all else, Bernice valued family. Her family cherishes their memories of time spent together during family gatherings at Bernice and Lloyd's home. They are particularly fond of the delicious meals she served around her always-welcoming dinner table. Her mashed potato recipe remains an elusive secret to this day.
Bernice is survived by her children, Dr. Larry Menning and his wife Pamela of Chamberlain, and Faye (Menning) Stryzewski and her husband Scott of Chamberlain; her grandchildren, Dr. Chad Menning of Muncie, Indiana, Trent Menning and his wife Kelly of Houston, Texas, Sarah (Stryzewski) Yentes and her husband Brian of Omaha, Nebraska, Aaron Stryzewski and his wife Elise of Chamberlain, Leah (Menning) Broussard and her husband Dr. Bryan of Worthington, Minnesota, and Maria Stryzewski of Chamberlain; and her five great-grandchildren. She is also survived by her sisters, Joyce Brink and Eunice Bormann, both of Corsica. She is preceded in death by her parents, her husband, her son, Wayne Menning, and her sister, Florence.
A visitation with the family present is from 2 -3pm on Sunday, November 1 and the funeral service is at 3:00 p.m. on Sunday, November 1 at Grace Reform Church in Corsica, with the burial to follow at Graceland Cemetery. A reception will be held at Grace Reform Church after the burial.
The family would like to thank the staff of Sanford Long Term Care Center in Chamberlain for their care and dedication.
Officiating: Rev. Dan DeGraff
Music: Barbara Noteboom, organist; Aaron Stryzewski, pianist; Chamberlain High School Allstate Chorus Members