Calvin Baier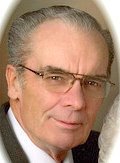 Calvin John Baier, 72, Corsica, died on Tuesday, May 3, 2011, at his home near Corsica.
Funeral service will be at 10:30 a.m. Saturday at St. Peter Lutheran Church, Armour. Burial will be in St. Peter Lutheran Cemetery. Visitation will be from 6 to 8 p.m. today at Koehn Brothers Funeral Home, Armour, with a 7 p.m. prayer service.
Calvin John Baier was born on Jan. 5, 1939, in Mitchell to Walter and Rose (Schumacher) Baier.
As a child, he was baptized on Feb. 19, 1939, by The Rev. Paul Bunge and confirmed March 29, 1953, by The Rev. Julius Heber.
He attended Lincoln Township country school and graduated from Armour High School in 1957. He attended SDSU in Brookings.
He worked at the Corsica Co-op after attending SDSU.
On Sept. 11, 1960, he married Karen Schlegel in Armour. To this union, four daughters were born: Cynthia, Julie, Joanne and Kathleen.
Calvin spent his entire life farming and was considered a good steward of the land.
He served on Corsica Co-op Board and Grandview Township Board for several years. He also held numerous positions on the church council.
He raised registered Angus cattle. He was a 4-H supporter and helped his daughters show cattle at the State Fair.
Calvin and Karen celebrated their 50th wedding anniversary on Sept. 11, 2010, with their family.
He enjoyed bowling, woodworking and did his own machine repairs.
He is survived by his wife, four daughters: Cynthia Van Zee and husband Douglas; and Kathleen Lau and husband Aaron, all of Corsica; Julie Hartmann and husband Maurice, Mitchell; and Joanne Hartmann and husband David, Armour; 12 grandchildren: Sara and Shelby Van Zee, Weston (Denise) and Jared Hartmann, Luke, Jack, Justine and Max Hartmann, Andrea, Samantha, Alyssa and Katelyn Lau; a brother, Gerald Baier and wife Rosella; a brother-in-law, Donald Schlegel and wife Carol; a sister-in-law, Dorothea Tesch; and numerous nieces and nephews.
He was preceded in death by his parents, parents-in law: Lloyd and Elizbeth Schlegel; one sister, Betty Neugebauer and husband Norbert; an infant brother, Lloyd; an infant niece; Lila Baier; and a brother-in-law, Wilfred Tesch.