Clareon Van Drongelen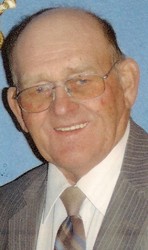 Clareon Van Drongelen, 71, of Corsica, SD passed away Saturday, July 28, 2012 at Chadron Community Hospital. Funeral Services will be 10:30 A.M. Thursday, August 2, 2012 at Harrison Christian Reformed Church. A Committal Service will follow at Harrison Cemetery. Visitation will be held from 5:00 – 7:00 P.M. Wednesday, August 1, 2012 at Mount Funeral Home in Platte with a 7:00 P.M. Prayer Service.
Clareon W. Van Drongelen was born on March 29, 1941 to Joe and Marie (VandenHoek) Van Drongelen in Stickney, SD. He went on to attend the Harrison and New Holland Christian Schools. Clareon was united in marriage to Tillie Poortinga in Lynden, WA on August 7, 1964. Clareon was a member of the Harrison Christian Reformed Church and proud of his lifelong career in farming.
Grateful for having shared in Clareon's life: his wife of 48 years, Tillie Van Drongelen of Corsica, SD; their 4 children: Sadie Monico of Surprise, AZ, Sandy Van Drongelen of Corsica, SD, Travis (Kellie) Van Drongelen of Corsica, SD and Jason Van Drongelen of Sioux Falls, SD; 5 grandchildren: Alicia Monico, Suzanne (Jason) Wantoch, Stacey Gorrell, Allen Palmer and Kelsey Palmer; 10 great grandchildren; a sister, Jone Van Drongelen of Harrison, SD; a brother, Kurt (Joyce) Van Drongelen of Harrison, SD; 5 sisters-in-law; 3 brothers-in-law; along with several nieces, nephews and cousins.
Clareon was preceded in death by: a son, John Van Drongelen (July 6, 1974); a grandson, Nicholas Gorrell (Aug. 21, 2009); his parents, Joe and Marie Van Drongelen; his mother and father-in-law, Henry and Sadie Poortinga and a brother-in-law, Tony Poortinga (2010).