Cornie Blom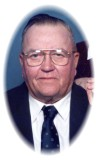 Cornie Blom was born on January 2, 1931 to Cornelius and Marie (Van Dorp) Blom in Pella IA. He attended school in Rock Valley, IA. On December 5, 1951 he married Jennie Zomer in Corsica, SD. For a short time after their marriage they lived in Rock Valley, IA where he set up machinery at an implement dealership. They moved to Corsica where he farmed, retiring in 1993. They moved from the farm to a home in Corsica where he was living at the time of his death. Cornie was a lifelong member of Netherlands Reformed Congregation, where he served as a deacon and an elder for 42 years. He loved his family, and greatly enjoyed visits from his children and grandchildren. He died at Douglas County Memorial Hospital in Armour on Thursday, April 16, 2015 at the age of 84.
He is survived by his wife, Jennie Blom of Corsica, SD, 10 children, Mel (Dena) Blom of Grand Rapids, MI, John (Cheryl) Blom of Corsica, SD, Case (Audra) Blom of Platte, SD, Bob (Becky) Blom of Corsica, SD, Marion (Joy) Blom of Corsica, SD, Leroy (Jodi) Blom of Corsica, SD, Connie (Randy) Baan Hofman of Corsica, SD, Mary (Dale) Delange of Harrison, SD, Terry (Melissa) Blom of Grand Rapids, MI, and Lorraine Plooster of Platte, SD, 31 grandchildren, 27 great-grandchildren, 3 brothers, John (Tillie), Arie (Clazina), and Henry Blom all of northwest Iowa, and brother-in-law, Gerrit Vande Hoef of northwest Iowa.
He was preceded in death by his parents, brothers, Jake, Jim, and an infant brother, sisters, Marie Schmidt, Nellie Vande Hoef, and Jennie Kramer, and infant granddaughter, Abbie Blom.
In lieu of flowers, memorials may be given to the Netherlands Reformed School in Corsica.