Dale Van Zee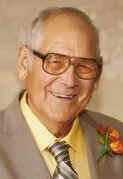 Dale L. Van Zee, 88, of New Holland, SD passed away Thursday, October 22, 2015 at Platte Health Center Avera in Platte, SD. Funeral Services are 10:30 A.M. Monday, October 26, 2015 at the First Reformed Church in Harrison, SD. A Committal Service will follow at Harrison Cemetery. A Prayer Service will be held at the church at 5:00 P.M. Sunday, October 25, 2015.
Dale Lyle Van Zee was born on September 17, 1927 to Marion and Cora (Kooiman) Van Zee on the family farm near Corsica, SD. He attended the Van Zee Country School through eighth grade. On June 15, 1949 he was united in marriage to Tena Scheepstra at the Christian Reformed Church in Worthington, MN. They made their home on a farm south of Corsica and worked the land together for 15 years. Then he enjoyed being self-employed trucking grain, cattle and hogs for area farmers.
Dale was a lifelong member of the First Reformed Church of Harrison. He also loved spending time with his grandchildren and visiting with his friends. After retiring from trucking, he enjoyed hunting, gardening and caring for his chickens.
Grateful for having shared in Dale's life: his wife of over 66 years, Tena Van Zee of New Holland, SD; their four children: David (Marlys) Van Zee of Huron, SD, Glenn (Sara) Van Zee of Armour, SD, Douglas (Cindy) Van Zee of Corsica, SD and Mary (Marvin) Cwach of Geddes, SD; nine grandchildren: Cori (Mike) Nelsen, Ashton (Brock) Hess, Brandon (Tyniah) Van Zee, Sara (Justin) Wright, Shelby Van Zee (friend, Chris Punt), Elliott Cwach, Lana Cwach, Brandi Cwach and Landon Van Zee; seven great-grandchildren: Kendyll and Harper Nelsen, Laken and Summer Van Zee, Berkley and Rylee Wright and Crew Hess; a brother, Orin Van Zee of Corsica, SD; and many nieces and nephews.
Dale was preceded in death by: his parents; three sisters-in-law; and a brother-in-law.