Dale Weerheim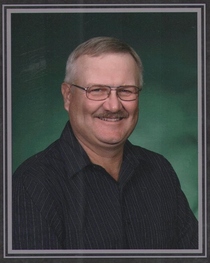 Dale Weerheim, age 58, of Madison, died Wednesday, January 7, 2015, at his home.
Funeral Services will be 10:30 AM Saturday at Trinity Lutheran Church with burial at 2:30 at Graceland Cemetery, Corsica, SD. Lunch will follow the committal at Our Savior Lutheran Church in Corsica.
Dale Bradley Weerheim was born November 26, 1956, at Armour, SD, to Marvin and Mary (Fuchs) Weerheim. He grew up in Corsica and moved to the Madison area in 1983. His work included the Nunda Elevator, Domestic Seed & Supply, and F&M Co-op until he retired in 2013 due to his health.
Dale met his wife Arleen when they were both in the 8th Grade and they both knew they had found "the one." Dale married Arleen Spaans in 1974 and they were blessed with three children. They spent 40 happy years together.
Dale loved his family, his John Deere tractors, and his projects. He loved being a grandpa and had a special place in his heart for his 10 grandchildren. He loved camping, hunting, boating, and going to sporting events & activities. Dale was quick to help out others, and would stop to have a conversation with anyone he happened to run into.
Dale had a kind heart, worked hard and lived life to the fullest even after being slowed down by health issues. After retiring, he found a passion in volunteering and most weekends you could find him and Arleen at an auction finding "treasures."
Dale was a member of Trinity Lutheran Church and a former member of the Nunda Fire Dept.
Dale will be missed greatly by his wife Arleen of Madison; his children Amy (Manny) Scarmon of Elk Point, SD, Jared (Jill) Weerheim of Sioux City, IA and Megan (Jeremy) Schneider of Madison; his grandchildren, Emma, Kennedy, Alex, Jake, Carsen, Lance, Myles, Max, Averie and Jase; his mother, Mary Weerheim of Madison; two sisters, Becky (Bob) Blom of Corsica and Cindy (Curt) Plamp of Stickney, two brothers, Fred (Jody) and Keith Weerheim all of Corsica; his father- and mother-in-law Cornie and Pauline Spaans of Corsica; and brothers- and sisters-in-law; nieces & nephews; and friends. He was loved by many.
He was preceded in death by his father Marvin Weerheim and his grandparents, Jake & Velma Weerheim and Fred & Viola Fuchs.