David Hansen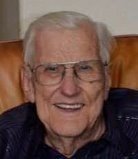 David L. Hansen, 91, of Corsica, SD, formerly of Platte, SD passed away Sunday, November 29, 2015 at Sanford USD Medical Center in Sioux Falls, SD. Funeral Services are 10:30 A.M. Saturday, December 5, 2015 at Bethel Lutheran Brethren Church in Platte. A Committal Service will follow at Torrey Lake Cemetery. Visitation will be held from 5:00 – 7:00 P.M. Friday, December 4, 2015 at Mount Funeral Home in Platte with a 7:00 P.M. Prayer Service.
David L. Hansen was born on May 28, 1924 near Faith, SD to Leonard and Josephine (Torresen) Hansen. He started school by walking or riding a horse to a one room country school. In the dirty thirties his family moved to north central Iowa and then returned a couple years later, settling on a farm north of Platte, SD. David farmed and ranched in the Platte and Kimball area and later retired in Corsica, SD in 2000.
David was a member of the Stavanger Lutheran Church where he was Treasurer until it closed. Then he attended Bethel Lutheran Brethren Church in Platte. He served as Treasurer of Torrey Lake Cemetery, Jones Ranch Grazing Assn. and Torrey Lake School Board. David had meticulous hand writing, and a gift for accounting and record keeping. He kept a journal for over 50 years and following the stock market was also one of his hobbies that he was passionate about.
Grateful for having shared in David's life: his daughter, Linda (Tom) Kloxin of Sioux Falls, SD; granddaughter, Londa Purintun (Josh Grotting) and five great grandchildren all of Sioux Falls, SD; step daughter, Phyllis Dallmann of Bemidji, MN; two step granddaughters: Sara and Melissa; seven step great grandchildren; along with several nieces and nephews.
David was preceded in death by: his wife of 45 years, Merlene Carlson of Mt. Vernon, SD; his wife of several years, Arline Torresen of Bluegrass, MN; his parents; two brothers: Odin and Lloyd Hansen; and three sisters: Betty Hansen, Jennie Brink and Lillie Hylland.