Dean Doorn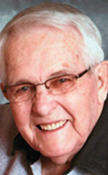 Dean Doorn, age 83 of Mitchell, passed away April 18, 2014 at Avera Queen of Peace Hospital. Funeral services will be 11:00 AM Thursday, April 24, 2014 at First Reformed Church in Mitchell, SD with Pastor Dean Ulmer, officiating. Burial will be at the American Legion Cemetery in Mitchell. Visitation will be from 6:00 PM to 8:00 PM Wednesday, April 23, 2014 at Will Funeral Chapel with a prayer service beginning at 7:00 PM.
Dean is survived by his wife of 63 years, Loris (Ketel) Doorn, Mitchell, SD; six children, Pat (Leon) Reiner, Tripp, SD, Doug (Barb) Doorn, Vermillion, SD, Robyn (Blaine) Duxbury, Westfield, IN, Dave (Lisa) Doorn, Steamboat Springs, CO, Brad (Kristen) Doorn, York PA, and Bryan (Jenna) Doorn, Mitchell, SD; 16 grandchildren; 16 great-grandchildren; two brothers Gary (Lonni) Doorn, Meridian, ID, and Edd (Dawn) Doorn, Bend, OR.
He was preceded in death by his parents Ed and Minnie (Beukelman) Doorn.