Dean Hamburg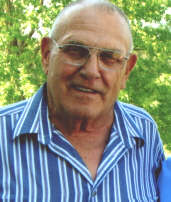 Dean Burl Hamburg, 79, died at the Good Samaritan Center in Corsica on October 20, 2011. Funeral service will be Tuesday, October 25, 2011 at 10:30 AM at Our Savior Lutheran Church in Corsica with burial following in Graceland Cemetery in Corsica. Visitation will be Monday, October 24, 2011 from 5:30 - 8:00 PM at Koehn Bros. Funeral Chapel in Corsica with a prayer service at 7:00 PM.
Dean Burl Hamburg was born on June 17, 1932 in Douglas County, SD to Leo and Alice (Kiel) Hamburg. He was baptized at Grandview Reformed Church. He attended Beulah Country School through the eighth grade and graduated from Corsica High School in 1950. Dean farmed with his brother, Melvin until he was drafted into the U.S. Army in 1953, serving 17 months in Korea. He was honorably discharged in February of 1955 and returned to farming. On September 28, 1956 he married Cornelia Bordewyk in Corsica. They were blessed with three children - Bradley, Tamara, and Jeffrey. Dean began his career at the U.S. Postal Service first as a substitute rural carrier, then Post Office Clerk before transferring to the Rural Route. He retired in 1997 after 40 years of service. He enjoyed his work very much, striving daily to deliver the mail at the same time every day. He made many life long friends and memories. Dean took pride in keeping up his farm yard, driving his horse Red, playing cards, reading and being with family and friends. He is a member of Our Savior Lutheran Church, South Dakota Rural Letter Carriers, lifetime member of the American Legion, VFW and Korean War Vets. He died at the Good Samaritan Center in Corsica on October 20, 2011 at the age of 79.
Happy to have shared in his life are his wife, Cornelia of Corsica; 3 children: Bradley Dean (Carol) Hamburg of Sioux Falls, SD; Tamara Kay (Carl Catalano) Hamburg of Key Largo, FL; and Jeffrey B (Linda) Hamburg of Warner Robins, GA; grandchildren: Trudy (Mason) Johnson; Brice (Suzanne) Hamburg; and Brian Hamburg all of Sioux Falls, SD; Jennifer (Daniel) Price of Jacksonville, FL; Amber (Dusty) Clements of Warner Robins, GA; Jill (Mike) Hamburg of Plymouth Meeting, PA; Joshua Hamburg of Athens, GA; step-grandchildren: Brent Johnson of Sioux Falls, SD and Tyler Johnson of Watertown, SD; great-grandchildren: Rylee and Avery Johnson, Brody Hamburg, Addison and Brenden Price; Peyton and Gavin Clements; Dylan Imperial; sisters: Luverne (Don) VanDerWerff of Armour, SD, Mary Lou (Gord) Kredit of Corsica, SD; Marjorie (Bill) Therrell of Seabrook, TX; sisters-in-law: Arleen Browen of Sioux Falls, SD and Caren Flynn of Winner, SD; and numerous nephews, nieces, and friends.
He was preceded in death by his parents, brother, Melvin, inlaws, Cornie and Nellie Bordewyk, brothers-in-law, Virgil VanZee, Bob Sparks, J.W. Therrell, Lawrence Browen, Dennis Flynn, nephew, Larry Hamburg.
In lieu of flowers, the family requests memorials.
In lieu of flowers, the family requests memorials.
Officiating: Rev. Donald H. Mohr
Music: Cheryle VanZee, organist
Casket Bearers: Brice Hamburg, Brian Hamburg, Josh Hamburg, Mason Johnson, Brent Johnson, Tyler Johnson
Honorary Casket Bearers: Loewll Hamburg, Randy Hamburg, Jim VanDerWerff, Jerry VanDerWerff, Mark VanDerWerff, Doug VanDerWerff, Greg VanZee, Kurt VanZee, Scott VanZee, Brian Sparks