Delia Veurink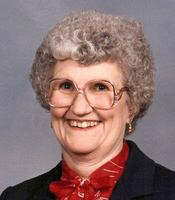 Delia Veurink, 84, New Holland, died Monday, June 13, 2011, at Good Samaritan Nursing Home, Corsica.
Funeral services will be at 1 p.m. Saturday at New Holland Christian Reformed Church. Burial will be in the New Holland Cemetery. Visitation will be from 11 a.m. until time of service Saturday.
Arrangements are under the direction of Kotrba Funeral Home, Gregory.
Delia (Van Zee) Veurink was born in New Holland at the home of her parents, John and Jessie (DeJong) Van Zee, on Feb. 10, 1927.
She attended New Holland Christian School and, at an early age, professed her faith in her Lord and Savior Jesus Christ and became a faithful and lifelong member of New Holland Christian Reformed Church. On Jan. 15, 1947, she married Gradus H. Veurink in her parents' home in New Holland. Together, they lived on a farm for one year and then moved into New Holland. Delia, along with her mother, served as custodians of Dakota Christian High School for several years.
Delia enjoyed working with plants, crocheting afghans, reading, singing and entertaining her many nieces and nephews.
She spent many hours at Van Zee Motor Sales, where her husband was employed as a mechanic, and liked to bake for "Coffee Time."
She and Gradus lived their entire lives in New Holland and, when it became necessary for health reasons, they moved to Good Samaritan Nursing Home, Corsica, in 2006.
Delia is survived by her husband Gradus; one brother, Howard (Betty) Van Zee, Platte; one sister, Pearl Munneke, Rock Valley, Iowa; brothers- and sisters in-law: Marion and Anna Mae Veurink, Martha Dykshorn, Harriet Meyerink, Edwin and Mavis Veurink and LeRoy and Elaine Veurink; and by several nieces and nephews.
She was preceded in death by her parents and a brotherin-law, Lloyd Munneke.