Dolores Vande Minkelis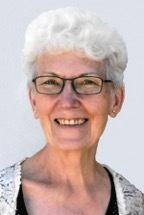 Dolores Elaine Vande Minkelis, 75, of Armour, SD passed away Tuesday, April 12, 2016 at Sanford USD Medical Center in Sioux Falls, SD. Funeral Services are 9:30 A.M. Saturday, April 16, 2016 at the First Reformed Church in Harrison, SD. A Committal Service will follow at Harrison Cemetery. Visitation will be held at the church from 5:00 – 7:00 P.M. Friday, April 15, 2016 with a 7:00 P.M. Prayer Service.
Dolores Elaine Vande Minkelis was born in Todd County, South Dakota on October 29, 1940, to John and Henrietta (Kiel) Olivier. When Dolores was six, the family moved to Douglas County to a farm along Highway 44. She went to Anderson School, a country school nearby, then Corsica High School and graduated in 1959. Dolores then went to the Electronic Radio Television Institute in Omaha, Nebraska for a three month course on Communications. She worked at the Krull's IGA grocery store in Armour for a time also.
On November 13, 1959 Dolores married Arthur Vande Minkelis. They lived in Southwest Douglas County where they farmed until Art passed away October 9, 2009. They were blessed with three children; a son and two daughters.
Dolores was a faithful member all her life of her church in Harrison. Her faith in her Lord Jesus Christ was most important to her. She looked forward to meeting Jesus and seeing her loved ones in heaven. She was involved as a teacher of Sunday School and Catechism; a member of women's Master's Workers, Ladies Aid, Guild, and Gideons; and corrected bible study lessons for prisoners through "Crossroad Bible Institute" for many years.
Dolores was a very independent hard working woman all her life. She loved her family greatly.
Grateful for having shared in Dolores' life: her daughters: Marilyn (Elroy) Zomer of Corsica, SD and Lisa (Carl) Hoogers of Armour, SD; 8 grandchildren: Sierra, Michael (Danica), Riley and Laurel Zomer; Amanda (Nathan) Singrey, Andrew (Kim), Bryan and Jessica Hoogers; 3 great grandchildren: Olivia and Cooper Singrey and Nyah Hoogers; brothers: Don (Donna), Lloyd (Irene) and Dennis (Sandy) Olivier; brother-in-law, Edwin Vreugdenhil; brother/sister-in-law, Rokus (Beth) Vande Minkelis; and 24 nieces and nephews.
Preceding her in death was her husband, Art; son, Owen; sister, Loretta Vreugdenhil; her parents, John and Henrietta Olivier; brother/sister-in-law, Reinhold (Grace) Huber; and a nephew, Alvin Huber.
Memorials in Dolores' honor may be directed to: The Gideons International, PO Box 140800, Nashville, TN 37214 or Crossroad Bible Institute (CBI), PO Box 900, Grand Rapids, MI 49509-0900.