Don Star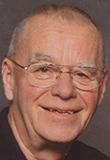 Donald Star, 82, Mitchell passed away Wednesday, November 30, 2016 at Firesteel Healthcare Center in Mitchell. Funeral services will be Saturday, December 3 at 11:00 AM at the First Reformed Church in Mitchell. Burial will be in Graceland Cemetery in Corsica. Visitation will be from 5-7:00 PM Friday evening with a Prayer Service at 7:00 PM, at the Bittner Funeral Chapel in Mitchell.
Donald James Star was born April 30, 1934, in Douglas County, SD, to Iddo and Jeanette (Yonker) Star. He grew up and attended schools in Douglas County. On August 13, 1954, he married Henrietta Dyk in Platte, SD. He was employed at the John Deere dealership in Corsica for over fifty years until his retirement in 1999. For thirty years he was a member of the Corsica Volunteer Fire Department and served ten years as Fire Chief. He was President of the Southeast South Dakota Smoke Eaters Fire District and President of the Corsica Fire District. For fifteen years he was the Mayor of Corsica. For fifty years he was a member of the Christian Reformed Church in Corsica and served three terms as a church deacon. He and his wife, Henrietta, owned and operated the Parkway Motel in Corsica. After retiring Don and Henrietta moved to Mitchell where he did woodworking and saw sharpening. He was a member of the First Reformed Church in Mitchell.
He is survived by his wife, Henrietta; four children: Harlan Star and wife, Joyce, and Dale Star and wife, Lisa, of Mitchell, SD, Nancy Gage and husband, Steve, of Sioux Falls, SD, Ione Bendt and husband, David, of Palmer Lake, CO; seven grandchildren, eight great grandchildren; three sisters: Dorothy Zoerman of Holland, MI, Margaret Dyk and husband, Dick, of Platte, SD and Alyce Jean Bareman of Holland, MI.
He was preceded in death by his parents and one brother, Alvin.