Edna (Denning) Carlson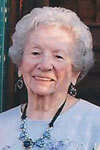 Edna (Denning) Carlson, 86, Corsica, died Sunday, Jan. 23, 2011, at Good Samaritan Society, Corsica.
Funeral services will be at 10 a.m. Thursday at First Reformed Church, Harrison. Burial will be in Harrison Cemetery. Visitation will be from 6 to 8 p.m. today at the church with a 7:30 p.m. prayer service.
Mount Funeral Home, Platte, is assisting with arrangements.
She was born on May 21, 1924, in Douglas County to Cornelius and Lena (Plooster) Beukelman.
On March 7, 1946, she married Ernest Denning in Corsica.
They farmed for several years before moving to Corsica, where they purchased the motel.
Her husband died on June 10, 1984.
She was a cook for the Armour and Corsica nursing homes and was an Avon lady for a number of years.
She was a member of the United Methodist Church in Stickney and belonged to the Corsica American Legion Auxiliary.
On July 22, 1990, she married Ted Carlson in Corsica.
He died on Nov. 14, 2007.
She is survived by her four children: Glenda Van Den Hoek and husband Gary, Sioux Falls; Von and wife Sue, Corsica; Avis Tolsma and husband Allen, Stickney; and Lori Sparks and husband Red, Armour; 11 grandchildren and 30 great-grandchildren.
She was preceded in death by both her husbands, four grandchildren, her parents, a sister, Nellie Beukelman; and a brother, Edward Beukelman.
Memorials may be directed to Make-A-Wish Foundation of South Dakota, 1400 W. 17th St., Sioux Falls, S.D. 57104.