Edward Star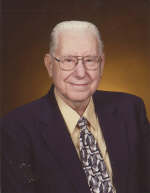 Edward Star, 88, died on Monday, October 27, 2014 at Good Samaritan Center in Corsica. Funeral service will be Friday, October 31, 2014 at 2:00 PM at Christian Reformed Church in Corsica with burial following in Graceland Cemetery in Corsica. Visitation will be Thursday, October 30, 2014 from 6 - 8 PM at Koehn Bros. Funeral Chapel in Corsica with a prayer service at 7:00 PM.
Edward Star was born on July 9, 1926 in Douglas County, SD to Lambert and Hattie (Ligtenberg) Star. He attended country school for four years and Corsica Christian Grade School for four years. He received his GED as an adult. Edd was raised on a farm and worked with his dad until he was 18 years old, then was drafted into the U.S. Army in March of 1945. He served his time in the Pacific Theater and Korea until his discharge in December of 1946 and he returned home to farm with his dad. His mother died shortly after returning home from the service and his dad lost interest in the farm and eventually moved to California. Edd married Reva Isakson on July 18, 1951. Reva died on May 12, 1960. Edd Married Joyce Van Kooten on June 19, 1964 and they celebrated 50 years of marriage on June 19, 2014. He was baptized and made profession of faith at age 18 at Christian Reformed Church in Corsica where he was a lifelong member. He also served many years on the council. He enjoyed Bible study and attended Coffee Break Bible studies for many years. He worked on a power line crew in North Dakota for two years before working as an auto mechanic for Pete Muilenberg's Garage for seven years. He then worked on farm machinery for Menning Implement for 25 years and Corsica Implement for eight years. Edd served many years on the Corsica Christian School and Dakota Christian High School Boards. He enjoyed reading, gardening, and working in his yard and shop. He built his own garden tractor and equipment. He died at Good Samaritan Center in Corsica on Monday, October 27, 2014 at the age of 88.
He is survived by his wife of 50 years, Joyce Star of Corsica, daughter, Kimberly Traynham of Des Moines, IA, 5 grandchildren, Keyette Star, Chad Roseboom, Cody Star, A.J. Star, and Kimeisha Star, step-granddaughter, Tarah Harry, great-grandchildren, Dylan, Austin, Brooklyn Roseboom, Camden, and Alexa Star, step-great-granddaughter, Dayanita Yarborough, and 2 step-sisters, Gladys Kuipers and Vivian De Jong.
He was preceded in death by his parents, step-mother, Henrietta, wife, Reva, son, Darwin Star in 2005, two sisters, Loretta Vanden Hoek and Naomi Poelstra, two infant daughters, a grandson, Jonathan Star, and step-brother, Don Rodenhuis.