Edwin Veurink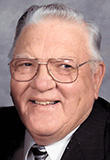 Edwin Veurink, 82, of Platte, SD passed away Tuesday, August 18, 2015 at Platte Health Center Avera. Funeral Services are 10:30 A.M. Saturday, August 22, 2015 at the New Holland Christian Reformed Church. A Committal Service will follow at New Holland Cemetery. Visitation will be held from 5:00 - 7:00 P.M. Friday, August 21, 2015 at Mount Funeral Home in Platte with a 7:00 P.M. Prayer Service. In lieu of flowers, memorials in Edwin's honor may be directed to: Dakota Christian School, 37614 SD Hwy 44, Corsica, SD 57328.
Edwin Veurink was born on October 25, 1932 to Gerrit Henry and Elizabeth (Vander Tuin) Veurink in rural Douglas County, SD. He attended New Holland Christian School and went on to a career in farming. Edwin was united in marriage to Elinor Keuning on August 11, 1955 at the Corsica Christian Reformed Church. To this union six children were born: Calvin, Mark, Brent, Beth, Shari and Trudi. They were together until Elinor's passing in 1982. On July 26, 1985 Edwin married Mavis (Houtkooper) De Waard at the Christian Reformed Church in Harrison, SD.
Edwin retired from farming in 1995 after a lifelong interest in working with the soil and livestock. Above all, he loved the Lord as his personal Savior and became a Christian at a young age knowing he lived by God's grace. Edwin also had a deep love for family and especially his grandchildren and great grandchildren. He was involved in various Christian ministries throughout his life time including faithful worship and participation at the New Holland Christian Reformed Church. He was actively involved in supporting Christian Education and served on the school boards of New Holland Christian School, Dakota Christian High, and Dordt College. Edwin was also involved with the Gideons and had a heart for sharing the Word with others. His love for organ worship music was evident by his ability to play by ear and his enjoyment of singing and worshipping the Lord with other believers. His love for music was also evident in the many years he enjoyed singing in the Dakota Jubilee and a local Men's Quartet.
Grateful for having shared in Edwin's life: his wife of 30 years, Mavis Veurink of Platte, SD; eight children: Calvin (Karen) Veurink of Harrison, SD, Mark (Patty) Veurink of Harrisburg, SD, Brent (Pam) Veurink of Platte, SD, Beth (Scott) Dyk of Williston, ND, Shari (Myron) Postma of Gallup, NM, Trudi (Jeff) Van Zee of Sioux Falls, SD, Keith (Norma) De Waard of Stickney, SD and Tim (Jan) De Waard of Utica, NE; 27 grandchildren; eight great grandchildren; a brother, LeRoy (Elaine) Veurink of Platte, SD; a sister, Harriet Meyerink of Platte, SD; a sister-in-law, Anna Mae Veurink of New Holland, SD; along with many nieces and nephews.
Edwin was preceded in death by: his wife, Elinor; his parents, Gerrit and Elizabeth; an infant brother and sister, John Veurink and Jennie Veurink; three brothers: John (Edith) Veurink, Gradus (Delia) Veurink and Marion Veurink; two sisters: Jennie (Harley) Ringling and Martha (Bill) Dykshorn; and a brother-in-law, Gerard Meyerink.