Eunice Bormann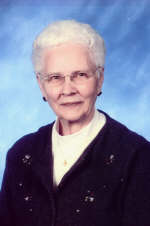 Eunice Bormann, 87, died at Good Samaritan Center in Corsica on Sunday, March 18, 2018. Funeral service will be Wednesday, March 21, 2018 at 11:00 AM at Grace Reformed Church in Corsica with burial following in Graceland Cemetery in Corsica. Arrangements by Koehn Bros. Funeral Home in Armour.
Eunice Bormann was born on January 27, 1931 to Fred and Anna (Noteboom) Plooster near Corsica, SD. She graduated from Corsica High School and attended Southern State Teachers College in Springfield, SD, receiving her teacherís certificate and taught in a country school.
On October 28, 1949 she married Delmar Bormann, and the couple lived in Corsica, where Eunice was a homemaker. Delmar died on March 30, 2001. Eunice was a member of Grace Reformed Church and Missionary Circle. She enjoyed crocheting, playing cards, and spending time with family, especially her grandchildren. She died on Sunday, March 18, 2018 at Pleasant View Good Samaritan Center in Corsica, at the age of 87.
She is survived by 4 children, Barbara (Larry) Noteboom of Corsica, SD, Rod (Marcia) Bormann of Corsica, SD, Jean (Brian) Van Genderenof Harrison, SD, and Tim (Tami) Bormann of Faulkton, SD, a sister, Joyce Brink of Corsica, SD, 9 grandchildren, 5 great-grandchildren, and nieces, nephews and other relatives. She was preceded in death by her parents, husband Delmar, and sisters Florence Romkema and Bernice Menning.
Officiating: Rev. Dan DeGraff
Casket Bearers: Audra Bormann, Bobbi DeWispelaere, Kyle Bormann, Clay Noteboom, Ashley Van Genderen, Tyler Anne Vogel, Colt Van Genderen, Taryn Bormann, Tayge Bormann
Honorary Casket Bearers: Harper DeWispelaere, Zoe Bormann, Aria Van Genderen, Tejay DeWispelaere, Caleb Van Genderen