Fred DeBoer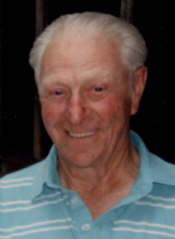 Fred Nelson DeBoer, 100, died at Good Samaritan Center in Corsica on Monday, December 10, 2013. Funeral service will be at First Reformed Church in Harrison at 10:30 AM on Saturday, December 14, 2013 with burial following in Harrison City Cemetery in Harrison. Visitation will be at Koehn Bros. Funeral Chapel in Corsica from 4 - 6 PM on Friday, December 13, 2013 with a prayer service at 5:30 PM.
Fred Nelson DeBoer was born on July 12, 1913 to James J. and Nellie (Lefers) DeBoer near Corsica, SD. He grew up in Garden Valley, northwest of Corsica, SD. He married Alida Elizabeth De Vries on August 20, 1937. Four children were born to this union. During the depression they moved to Bellflower, CA where he worked for General Motors and worked in the ship yards during World War II. In 1944 they returned to South Dakota and bought a farm in Garden Valley, where they worked and lived until retirement in 1978 when they moved to Corsica. They enjoyed traveling, bowling, and golfing for many years after retiring. Alida died on October 14, 1993. Fred was an active member of First Reformed Church in Harrison where he was an elder, and where they nurtured their children in the Christian Faith. He died at the Good Samaritan Center in Corsica on Tuesday, December 10, 2013 at the age of 100.
He is survived by three children, Jeanette (Dennis) Hackler of Arlington, TX, Barbara (Mark) Fisher of Rochester, MN, and Ronald Dean DeBoer of Durham, NC, daughter-in-law, Virginia of Longview, TX, 5 grandchildren, and 16 great-grandchildren.
He was preceded in death by his parents, wife, Alida, son, Roger in 1977, sister, Genevieve, and brother, Vernon.