Gertrude Rus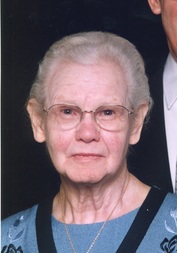 Gertrude Rus, 89, passed away Friday, August 26 at Avera St. Benedict Hospital in Parkston. Funeral service will be Tuesday, August 30 at 10:00 am at the Netherlands Reformed Church in Corsica. Visitation will be Monday, August 29 from 6 to 8 pm with an 8:00 pm prayer service at the Netherland Reformed Gym in Corsica. Arrangements by Koehn Bros. Funeral Home in Armour.
Gertrude Rus was born November 30, 1926 in Alvord, IA, the daughter of Wulfert and Gertrude (Bloemendaal) Wallenburg. She was united in marriage to Herman Rus on February 24, 1949 in Rock Valley, IA. She loved children, was a baby-sitter, and a teachers aid at the Netherlands Reformed Christian School in Corsica, SD.
Those left to cherish Gertrude's memory are her husband of 67 years, Herman of Corsica; 3 children: Joanne (Darold) Den Boer of Corsica; Gib (Donna Jean) Rus of Rock Valley; and Kenny (Cindy) Rus of Armour, SD; 7 grandchildren; 23 great-grandchildren; a brother-in-law, Cornie Rus of Sioux Center, IA.
She was preceded in death by her parents; 3 brothers and sisters-in-law: Tony and Dora Wallenburg; John and Nellie Wallenburg and Bill and Della Wallenburg; 2 sisters and a brother-in-law: Jo and Andy Boon and Katherine Rus; and 3 brothers in infancy.