Harriet Kuyper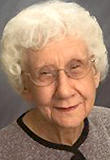 Harriet J. Kuyper, 88, of Mitchell, SD passed away Sunday, January 11, 2015 at the Good Samaritan Nursing Home in Corsica, SD. Funeral services are 10:30 a.m. Saturday, January 17, 2015 at the First Reformed Church, Mitchell, SD. Visitation will be held at the church from 5:00-7:00 p.m. Friday, January 16, 2015 with a 7:00 pm prayer service. Internment will follow lunch at Graceland Cemetery, Corsica, SD. Arrangements by Will Funeral Chapel.
Harriet J. Kuyper was born on March 22, 1926 in Perkins, IA (Sioux County) to Peter and Gertrude (Kroon) Punt. She earned a high school diploma from Stickney High School and a Teaching Certificate from the Springfield Normal Teaching College, at which time she taught elementary school. She was united in marriage to Ernest Kuyper on September 16, 1949 at the maternal parents' home. They farmed until moving to Sacramento, California from 1960 to 1962. After returning to farming in Aurora County, SD, they farmed until 1970 when Ernest's health compelled a move from farming to owning and managing the Sunset Motel in Stickney, SD. They moved to Corsica, SD in 1972 at which time Harriet was a paraprofessional in the Corsica Public School system. Later on, Harriet was also a cook at the Corsica Cafe. After Ernest died in 1992, Harriet moved to Mitchell to be closer to her children and families.
Harriet had two strong loves, her faith and her family. At church she was an organist, Sunday School and VBS teacher, choir director and Bible study participant. She lived her faith by helping prison inmates with Bible studies. She was devoted to her husband, children, and grandchildren. They were truly her pride and joy.
Those left to cherish her memories are her three children: Sharon (Glenn) Ligtenberg of Mitchell, SD; Arend (Ann) Kuyper of Mitchell, SD; and Kathleen (Tom) Vondracek of Walnut Grove, MN; eight grandchildren; eleven great grandchildren; three brothers: Vernon (Phyllis) Punt, Richard (Philomena) Punt and Adames (Sarah) Punt all of Stickney, SD; one sister: Shirley Tolsma of Mitchell, SD; brothers-in-law: Don Hattendorf and Ivan (Jean) Kuyper; along with many nieces, nephews and friends.
She was preceded in death by: her husband, Ernest Kuyper (September 22, 1992); her parents; two brothers and spouses; one sister; two brothers-in-law and spouses and sisters-in-law and spouses.