Hattie Rus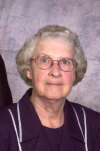 Henrietta (Hattie) Rus, 93, died on Sunday, March 25 at Ava's House in Soiux Falls. Funeral service will be Thursday, March 29 at 10:30 am at Netherlands Reformed Congregation in Corsica. Visitation will be Wednesday, March 28 from 5 to 7 with a 7:00 pm prayer service at the Netherlands Reformed School Gymnasium in Corsica. Arrangements by Koehn Bros. Funeral Home in Armour.
Hattie was born August 31, 1924 to Henry and Alice (Vande Hoef) Van Voorst in Sioux Center, IA. She grew up on a farm near Sioux Center and attended a country school through the 8th grade. She was united in marriage to John L. Rus on November 29, 1944. Together they farmed near Corsica, SD. To this union 7 children were born and celebrated over 70 years of marriage. Hattie enjoyed sewing, gardening and spending time with her family, especially her grandchildren. Her birthday calendar was her guidance to remembering all of the family birthdays. Up until recently, she sent each and every one a card and a letter.
Grateful for having shared her life are her 5 children: Henry (Marcia) Rus of Corsica; Arlene Vanden Hoek of Plankinton, SD; Jack Rus and friend Cheryl of Corsica; Shirley Van Voorst and friend Arlyn of Rock Valley, IA; and Arnie (Wanda) Rus of Chamberlain, SD; 25 grandchildren; 52 great-grandchildren; 18 great-great-grandchildren; a sister, Marie Bakker of Rock Valley; a brother, Jake Van Voorst of Inwood, IA; a sister-in-law, Dorothy Van Voorst of Carmel, IA; a brother-in-law, Jack Dibbet of Sioux Center; and many nieces and nephews.
She was preceded in death by her parents; husband, John; a daughter, Jeanette Johnson and husband, Marlin; a son, Lerry Rus; 2 sons-in-law, John Van Voorst and Norman Vanden Hoek; a grandson, Jeremy Rus; a great-great-grandson, Peyton Ymker; 3 brothers: John (Tillie) Van Voorst, Rich Van Voorst, and Gerrit (Jo) Van Voorst; 3 sisters: Minnie (William) Van Bochove, Gertrude (Hank) Van Beek and Priscilla Dibbet; a brother-in-law, John Bakker and a sister-in-law, Freda Van Voorst.