Hattie Vanderpol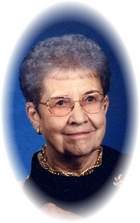 Hattie Vanderpol, 92, died Wednesday, March 14 at Avera Bormann Manor in Parkston. Funeral service will be Saturday, March 17 at 10:30 am at the Christian Reformed Church in Corsica with burial following in Graceland Cemetery, Corsica. Visitation will be Friday, March 16 from 5 to 7 pm with a 7:00 pm prayer service at the Christian Reformed Church in Corsica. Koehn Bros. Funeral Home in Parkston is handling arrangements.
Hattie was born September 13, 1919 to Joseph and Stella (Carda) Tucek on a farm 9 miles northeast of Geddes, SD in Moore Township. She grew up near Geddes where she was a member of St. Ann's Catholic Church and worked in a store. On October 14, 1938, she was married to Rolland Vanderpol at the Christian Reformed Church parsonage in New Holland, SD. She made profession of faith and became a member of the New Holland Christian Reformed Church and later became a faithful member of the Christian Reformed Church in Corsica. She was a member of the Dorcas Society, the Dakota Christian School Auxilliary and the Corsica Historical Society. She devoted her life to her beloved husband of 73 years, Rolland, who passed away on October 29, 2011, and her family. She was Rolland's help mate, partner, soul-mate and the wind beneath his wings. She was rewarded in this life by the love and respect of her family and will be rewarded in heaven by her heavenly Father.
She will be dearly missed by her 4 remaining children: Gary (Pat) Vanderpol of Harrison, SD; Judy Bobeldyk of Lakeville, MN; Robert (LaVonne) Vanderpol of Corsica; and Galen (Monica) Vanderpol of Geddes; a daughter-in-law, Judy Vanderpol of Mitchell, SD; 19 grandchildren; 4 step-grandchildren; 44 great-grandchildren; 7 step-great-grandchidlren; 5 great-great-grandchildren; a brother-in-law, Don (Ann) VanderPol and a sister-in-law, Dorothy VanderWerff.
She was preceded in death by her parents; husband; a brother, Leo and wife Lois; her son, Marvin; a son-in-law, Irvin Bobeldyk; a grandson, Thomas; a nephew, Terry Tucek; 2 siblings at birth; and brothers and sisters-in-law: Henry (Ruth) Vanderpol, Jeanette Vanderpol; Dick (Mayme) Vanderpol; Alvin (Viola) Vanderpol; Lawrence Vanderpol; Leone (George) DeBoer; and Ray VanderWerff.
Memorials may be directed to Dakota Christian School or Mitchell Christian School and would be preferred in lieu of flowers.