Helen Wolbrink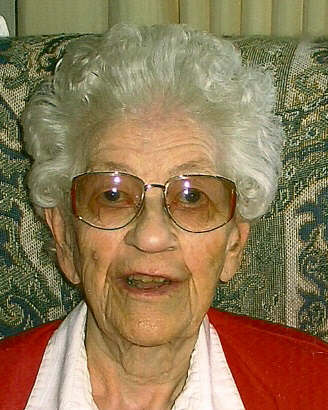 Helen Wolbrink, age 99, and a lifetime resident of the area passed away on November 24, 2009 at the Good Samaritan Pleasant View Nursing Home in Corsica. Funeral services will be held at 10:30 a.m. Saturday, November 28, 2009 the Aurora Reformed Church in Aurora Center, SD with Rev. Dan Ebbens officiating. Interment will follow at the Aurora Center Cemetery.
Visitation with the family will be on Friday, November 27, 2009 from 4:00 p.m. to 7:00 p.m. with a prayer service at 7:00 p.m. at the Lien Funeral Chapel in Stickney.
Helen Jana was born on Sept. 17, 1910 in rural Douglas county, the daughter of Adrainus and Gertrude (Rysdam O'Brien) Kuyper. She was the only child of that union and was baptized at the Grand View Reformed Church. She began school in rural Douglas county but graduated from the eighth grade in Corsica where she had moved with her parents. As a teenager they took up residence on a farm near Aurora Center.
On Nov, 11, 1931 she married Charles J. Wolbrink in Harrison and they spent 57 years together farming in Douglas and Aurora Counties. She was a life-long member of the Reformed Churches in Harrison and Aurora Center. She was a dedicated home maker and loved playing the piano and organ. She also enjoyed quilting, crocheting and embroidery.
In 1997 she moved to a retirement home and since 2004 has been a resident of the Pleasant View home.
Survivors include her three children, Joyce and her husband Bill Van Gorp of Orange City, IA, Frances (Mrs. Leonard De Waard) of Stickney and Arnold and his wife Bernetta (Brondsema) Wolbrink also of Stickney, eight grandchildren, Brenda Schiebout, Bryan Van Gorp, Jocelyn Van Heukelom, Daniel De Waard, David De Waard, Dawn Barton, Joel Wolbrink, and Nathan Wolbrink, eighteen great-grandchildren, and two great-great-grandchildren, one brother-in-law and three sisters-in-law, Orville and Sarah De Boer, Lorraine Wolbrink, and Eltha Wolbrink, and many nieces and nephews.
Preceded in death was her husband, Charles, in 1989, her parents, one son-in-law, Leonard De Waard, five half -brothers and five half-sisters, William Kuyper, Adrainus Kuyper, Adrainus (Ed) Kuyper, Virgil O'Brien, Ray O'Brien, Hattie Lefers, Dena Niewenhuis, Mina Kuyper, Ann De Haan and Kate Vlasman and 23 brother and sisters-in-law. Lien Funeral Chapel has been entrusted with the arrangements.