"Ike" Bosma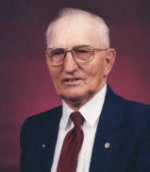 Isaac "Ike" Bosma, 95, died on Wednesday, May 2, 2012 at the Good Samaritan Center in Corsica. Funeral service will be Saturday, May 5, 2012 at 10:30 AM at Grace Reformed Church in Corsica with burial following in Graceland Cemetery in Corsica. Visitation will be Friday, May 4, 2012 from 5:30 - 7:30 PM at Grace Reformed Church in Corsica with a prayer service at 7:00 PM. Arrangements by Koehn Bros. Funeral Home in Corsica/Armour.
Isaac "Ike" Bosma was born on July 2, 1916 in Sutton, Massachusetts to Herman and Pearl (Poelstra) Bosma. At the age of 2, they moved to Corsica where he attended school. On July 17, 1941, he married Irene DeVries at her sister Fannie and Rich VanEkeren's home. Ike was a member of Grace Reformed Church where he held positions as a Deacon and an Elder. He was also a member of the Gideon's, Lions Club, and Senior Citizens for many years. He served on the township board and weed board for over 17 years as well as the Graceland Cemetery Board. Ike was a very caring and inspirational husband, father, grandfather, great-grandfather and was extremely dedicated to his Savior and his family. Ike spent most of his amazing life on the family farm north of Corsica. While on the farm, they raised grain, cattle, horses, pigs, sheep, chickens, guineas, and peacocks. He had an unyielding love for the farm and a passion for all animals, especially his horses. Ike participated in many parades riding his pride and joy horse, King, and won many trophies and ribbons for his efforts. Even after he and Irene moved into Corsica in 1984, he still loved feeding the animals, which consisted of squirrels and random cats. Throughout his life, he always had a robust love for music and played his harmonica and sang for many years with a group of friends for various events. Ike loved going to sporting events to watch his grandchildren and great-grandchildren. And up to 2 weeks prior to his death, he could beat anyone at playing cards. Ike became a resident of the Good Samaritan Center in Corsica on May 1, 2012 and died there on May 2, 2012 at the age of 95.
Grateful for having shared his life is his loving and caring wife of 70 years, Irene of Corsica, son, Donald (Mary) Bosma of Corsica and their children Shelly (Frank) Menning, Troy (Cindy) Bosma, Dan (Chris) Bosma all of Corsica, and Wendy (Farlin) Barse of Hartford; daughter, Judy Bosma of Sioux Falls and friend, Marv Van Kekerix of Colton; daughter, Londa (Ray) Cordrey of Corsica and children, Jeremy VanGorp of Stickney, Kim VanGorp and fiancÚ Roman Briggs of Plankinton, and Ray Gene Cordrey of Corsica, 13 grandchildren, Faith, Kris, Hope and Kyle Menning; Jordan (Christina) Wickstrom, Tyler and Dylan Wickstrom, and Shad Bosma; Kayla Fischer, Brooklyn and Aspen Bosma; and Jaden and Raven Barse, and sister-in-law, Clara Noteboom of Corsica.
He was preceded in death by his parents, sister, Sadie, and brothers, Gilbert and Henry.
In lieu of flowers, his family asks that memorials be directed tot he Gideon's in whom Ike was a great supporter and advocate.
Officiating: Rev. Josh Benton, Pastor Brad Veurink
Music: Sharon Van Marel, organist, Don Kuyper, soloist
Casket Bearers: Frank Menning, Farlin Barse, Troy Bosma, Jeremy VanGorp, Dan Bosma, Roman Briggs, Ray Gene Cordrey
Honorary Casket Bearers: His Special "Gideons" Friends