Irene Olivier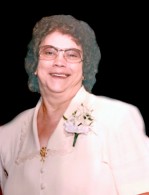 Irene Mae Olivier, 79, of Corsica, SD passed away Thursday, January 3, 2019 at Douglas County Memorial Hospital in Armour, SD. Memorial Services are 10:30 A.M. Friday, January 11, 2019 at the Corsica Christian Reformed Church. A Committal Service will follow at Harrison Cemetery. Visitation will be held at the church one hour prior to services on Friday.
Irene Mae (DeJong) Olivier was born on September 12, 1939 to William and Fannie (Hobma) DeJong in Bon Homme County, SD. She attended country school and was united in marriage to Lloyd Olivier on April 10, 1959 at the Emmanuel Reformed Church in Springfield, SD.
Irene enjoyed working with the elderly as a CNA at the Good Samaritan Society in Corsica. She was a member of the Corsica Christian Reformed Church and loved sewing, gardening and canning what she grew.
Grateful for having shared in Irene's life: her husband of over 59 years, Lloyd Olivier of Corsica, SD; seven children: Jerry (Krista) Olivier of Sioux Falls, SD, Todd Olivier of Sioux Falls, SD, Doug Olivier of Harrisburg, SD, Nyla (John) Lewis of Baker, FL, Trista (Tom) DeLange of Corsica, SD, Darcey (Dave) Hargens of Stickney, SD and Sasha (Damon) Shimp of Hills, MN; 16 grandchildren: Reagan, Ian, Jordan, Laramie, Walker, Calisa, Kieth, Aaron, Samantha, Zachary, Kruz, Candice, Kane, Austin, Aspen and Wyett; five great grandchildren: Payce and Kennedy, Kyla, Jackson and Avery; two brothers: Merrill (Bonnie) DeJong and Raymond DeJong; two sisters-in-law: Alberta DeJong and Marge DeJong; two brothers-in-law: Donald (Donna) Olivier and Dennis Olivier; along with many nieces and nephews.
Irene was preceded in death by a son, Timothy Lloyd Olivier; her parents; five brothers; six sisters-in-law; and two brothers-in-law.