Jennie Munneke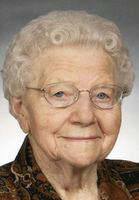 Jennie Munneke, 98, New Holland, died Friday, Oct. 12, 2012, at the Good Samaritan Society, Corsica.
She was born June 12, 1914.
Funeral services will be at 10:30 a.m. Tuesday at the New Holland Christian Reformed Church. A committal service will follow at the New Holland Cemetery. Visitation will be held at the church one hour prior to services on Tuesday.
Memorials in Jennie's honor may be directed to New Holland Christian Reformed Church, PO Box 3, New Holland, SD, 57364, or to the charity of your choice.
Jennie (Keuning) Munneke was born on a farm south of New Holland to Simon and Helen (Van Zee) Keuning in Douglas County. She graduated from New Holland Christian Grade School. Jennie made profession of her faith at the New Holland Christian Reformed Church, where she was a lifelong member. She participated in the Priscilla Ladies Aid, Hosanna Club and a neighborhood Bible study group for many years.
On Feb. 16, 1934, she was united in marriage to Harry Munneke in New Holland. To this union, three children were born. Together they farmed until 1960 when they moved to New Holland.
Jennie enjoyed baking, especially for her grandchildren and friends. In her spare time, she took pleasure in crocheting and working with her flowers. She treasured spending time and traveling with her sister, Minnie. Her love for the outdoors showed in the many miles she walked in her lifetime. In July of 2006, Jennie became a resident of Leisure Living in Corsica, and then the Good Samaritan Society in September of 2011 until the present.
Grateful for having shared in Jennie's life are her two children, Howard and Evelyn Munneke, of Corsica, and Hannah Van Peursem, of Sioux Falls; seven grandchildren; 19 great-grandchildren; four great-great-grandchildren; a sister, Minnie Mulder, of New Holland; along with several nieces and nephews.
Jennie was preceded in death by her husband, Harry (March 24, 1975); an infant son, Sylvan Jay; a son-in-law, Lyle Van Peursem; her parents; and a sister, Rena Boer, of Holland, Mich.
She was a loving mother, grandmother and great-grandmother who will be missed by all who knew her.