John H. Feenstra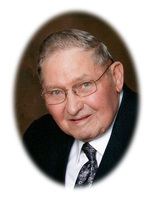 John H. Feenstra, 82, of Corsica, SD passed away Wednesday, January 7, 2015 at the Corsica Good Samaritan Society. Funeral Services are 10:30 A.M. Saturday, January 10, 2015 at the New Holland Christian Reformed Church. A Committal Service with Military Honors will follow at the New Holland Cemetery. Visitation will be held from 5:00 Ė 7:00 P.M. Friday, January 9, 2015 at Mount Funeral Home in Platte with a 7:00 P.M. Prayer Service. Memorials in Johnís honor may be directed to: Dakota Christian School, 37614 SD Hwy 44, Corsica, SD 57328.
John H. Feenstra was born on January 10, 1932 to Henry and Fannie (Likkel) Feenstra on the family farm near New Holland, SD where he lived until his retirement. He graduated from New Holland Christian Grade School in 1945 and went on to serve his country in the U.S. Army during the Korean Conflict from 1952 Ė 1954. He was honorably discharged as a Sergeant 1st Class having earned two Bronze Stars. On August 25, 1954 John was united in marriage to Glennys Niewenhuis at the New Holland Christian Reformed Church. They farmed near New Holland until retiring in 2007 and moving to Corsica.
John was a member of the New Holland Christian Reformed Church, serving as Treasurer while a Deacon. He was a member of Everson-Beukelman American Legion Post #274 and served on the Christian School Board. John enjoyed pheasant and rabbit hunting, watching birds, visiting over coffee with friends, and especially time spent with his grandchildren and family.
Grateful for having shared in Johnís life: his wife of over 60 years, Glennys Feenstra of Corsica, SD; his five children: Marjolyn (Jerry) Baan Hofman of Corsica, SD, Delwin (Linda) Feenstra of Harrison, SD, Maxine (Tim) Haagsma of Grand Rapids, MI, Marcella (Brian) Nies of Herreid, SD, Darcy Feenstra and Renee Dilts of Yankton, SD; 18 grandchildren; six great-grandchildren; a brother, Gordon (Betty) Feenstra; four sisters: Delia (Keith) Bordewyk, Evelyn (Howard) Munneke, Vonnie (Harley) Van Horssen and Eunice (James) Stegner; 2 brothers-in-law: Gene (Evelyn) Niewenhuis and George Niewenhuis; along with many nieces and nephews.
John was preceded in death by his parents, Henry and Fannie Feenstra, a brother, Gerald Feenstra, his mother and father-in-law, Will and Anna Niewenhuis, and two sisters-in-law: Evelyn (Howard) VanderVeen and Violet Niewenhuis.