John Mosterd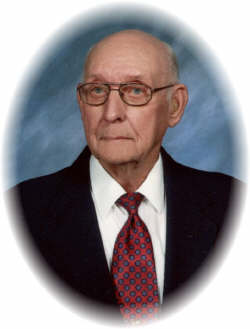 John Elmer Mosterd, 89, died at Platte Health Center in Platte on Saturday, Febuary 19, 2011. Funeral service will be Thursday, February 24, 2011 at 10:00 AM at the Christian Reformed Church in Corsica with burial following in Graceland Cemetery in Corsica. Visitation will be Wednesday, Fedruary 23, 2011 from 5 - 7 PM at the Christian Reformed Church in Corsica with a prayer service at 7:00 PM. Arrangements by Koehn Bros. Funeral Home in Corsica/Armour.
John Mosterd was born on September 20, 1921 to Martinus and Nina Mosterd. He graduated from Corsica High School in 1940. He served in the U.S. Army from 1944 to 1946. He married Mary Lois Vander Linden on January 1, 1947 in Corsica, SD. Together they farmed in the local area for 33 years. John retired in 1980 and moved into Corsica. Mary died on October 31, 2003. He enjoyed golfing, woodworking, and watching the Twins and Vikings. He was a member of the Christian Reformed Church in Corsica since his birth. He died on Saturday, February 19, 2011 at the Platte Hospital in Platte at the age of 89.
John is survived by 4 children: Nancy Shaddy and husband, Jim, Larchwood, IA; Mark Mosterd and wife, Colleen, Platte, SD; Lynn Mosterd and wife, June, California, MD; and Loren Mosterd and wife, Ranee, Ireton, IA; 9 grandchildren: Chris (Melanie) Mosterd of Lexington Park, MD; Carla (Travis) Nelson of Bar Nunn WY; Eric (Hannah) Mosterd of Vermillion SD; Jason (Holly) Mosterd of Burke SD; Aaron (Amy) Mosterd of Tea SD; Nathan (Kayla) Mosterd of Orange City IA; Todd Mosterd of Platte SD; Kayla (Eric) Hoogendoorn of Rock Valley IA; Samantha Mosterd (Fiancee Brett Anderson) of Tea SD; 6 Great-Grand-Children: Kristian & Travis of Nelson Bar Nunn WY; Leo Mosterd of Burke SD; Hunter Hoogendoorn of Rock Valley, IA; Carson Mosterd of Orange City, IA; and Ike John Mosterd of Burke, SD; 2 sisters: Marie of Platte, SD; Arvilla Anys of Holland, MI; and brother, Bus (Jeanean) Mosterd of Holland, MI.
He was preceded in death by his wife, Mary Lois of 56 years, parents, an infant grandson, and brothers-in-law, Orin Kok and James Anys.
Honorary Casket Bearers
Mel, Taylor, Jayleigh Mosterd
Travis, Carla, Krintian, Travis Nelson
Holly, Leo, Ike Mosterd
Hannah Mosterd
Amy Mosterd
Todd Mosterd
Eric, Kayla, Hunter Hoogendoorn
Samatha Mosters - Brett Anderson (Fiancee)
Kayla, Carson Mosterd
Officiating
Rev. John Benton
Music
Jackie Niewenhuis, organist
Casket Bearers
Chris Mosterd, Jason Mosterd, Aaron Mosterd, Nathan Mosterd, Eric Mosterd, David Kok