Karen Kay De Boer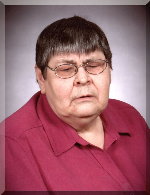 Karen Kay De Boer, 76, died at Avera St. Benedict Hospital in Parkston on Wednesday, May 1, 2019. Funeral service will be Tuesday, May 7, 2019 at 11:00 AM at Harrison Community Church (South Church) in Harrison with burial following in Harrison Cemetery. Visitation will be at the church an hour prior to the funeral service. Arrangements by Koehn Bros. Funeral Home in Armour.
Karen Day De Boer was born on February 19, 1943 to Everett and Alice (Vanden Hoek) De Boer on the family farm near Harrison, SD. She was born with an eye disease and was told she would be blind by the age of 40. She attended grade school at Garden Valley Country School near Harrison, then stayed home with her family.
At the age of 35, Karen moved to Sioux Falls to the School for the Visually Handicapped. While there, she worked in the workshop and lived in a group home for more than 30 years. She made jigsaw puzzles until her eyesight did not permit it anymore and she was a very loyal Minnesota Twins fan. She listened to games on the radio and watched them on TV, never wanting to miss a game.
In September of 2013, Karen and her mom moved to Leisure Living in Corsica. In September of 2016, Karen moved to Good Samaritan Society in Corsica. She died at Avera St. Benedict Hospital in Parkston on Wednesday, May 1, 2019 at the age of 76.
Thankful and blessed to have shared her life are her sisters, Delores (Lloyd) Markus of Huron, SD and Jan (Jim) Eggers of Corsica, SD, brother, Brent (Jenny) De Boer of Sioux Falls, SD and many nieces and nephews.
She was preceded in death by her parents and brother, Harlan.
Officiating: Pastor Gary Maas
Music: Jone Van Drongelen, organist; Don Kuyper, soloist
Casket Bearers: Cole De Boer, Jared Eggers, Todd Markus, Glen Moke, Jason Van Roekel, Larry Fenicle, Dan Bannwarth