Kevin Brink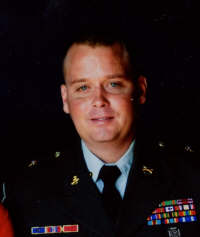 Kevin Brink, 34, died at the VA Medical Center in Sioux Falls, SD on Tuesday, December 17, 2013. Funeral service will be Saturday, December 21, 2013 at 10:00 AM at Grace Reformed Church Church in Corsica with burial following in Milltown City Cemetery in Milltown, SD. Visitation will be Friday, December 20, 2013 from 5 - 7 PM at Grace Reformed Church in Corsica with a prayer service at 7:00 PM. Arrangements by Koehn Bros. Funeral Home in Armour.
Kevin Richard Brink, son of Richard and Judy Brink, was born on September 29, 1979 in Parkston, SD to Richard and the late DeAnn (Engel) Brink. He grew up in Corsica, SD where he attended Corsica Public School graduating from Corsica High School in 1998. He attended MTI, then enlisted in the U.S. Navy in 1999. During this time he was stationed in San Diego, CA and was deployed to the Gulf Region aboard the USS Jarret. Kevin was honorably discharged in 2004.
He worked as an electrician in San Diego before enlisting in the U.S. Army in 2008. He was stationed at Fort Knox, Fort Sill, Fort Bliss, and Fort Carson, CO. He served in Iraq with the 1st Armored Division and Afghanistan with the 4th Infantry Division. Kevin was honorably discharged in 2013. He enjoyed hunting, fishing, and sports. Kevin passed away on Tuesday, December 17, 2013 at the VA Medical Center in Sioux Falls, SD at the age of 34.
He is survived by his parents, Richard and Judy Brink of Corsica, SD, wife, Robin (Wilson) and their son, Tyler of Chatsworth, CA, 4 sisters, Kris (Andy) Stoltz of Homen, WI, Rhonda Culver of Yankton, SD, Deann Bultje of Corsica, SD, and Jodi (LeRoy) Blom of Corsica, SD, 2 brothers, Doug (Angie) Gruenewald of Lovington, NM and Chad (Kristi) Gruenewald of Rapid City, SD, grandparents, Madelyn Nickelson of Huron, SD and Clarence Hunsucker of Platte, SD, and many aunts, uncles, cousins, nephews, and nieces.
He was preceded in death by his mother, DeAnn, grandparents, and a uncle.
Memorials will be given to the Wounded Warrior Project.
The family would like to thank the medical and nursing staff of the VA Medical Center for the care and support of Kevin.