Kevin Gardeman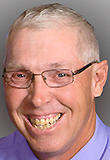 Kevin Jay Gardeman, 62, of Corsica died Wednesday, July 15, 2015 at Mitchell. Funeral services will be 10:30 AM, Tuesday, July 21, 2015 at Saint John Lutheran Church of rural Dimock. Burial will be in Saint John Cemetery. Visitation will be Monday from 5-7:00 PM with a prayer service at 7:00 PM at the Bittner Funeral Chapel in Mitchell.
Kevin J. Gardeman was born June 23, 1953 to Lyle and Geneva (Schrank) Gardeman. He grew up on the family farm near Corsica SD. He attended country school until 8th grade and then graduated from Corsica High School in 1971. He was active in 4-H and received many blue ribbons. Oh March 30, 1978 he married Barbara Geidel. They lived in Ethan SD until they moved to the family farm near Corsica in 1987. He was a member of St. John Lutheran Church, Hillside, of rural Dimock SD where he was on the church council and a member of the church choir.
Kevin was a hardworking man who raised cattle and held various jobs. He spent the last ten years working at ProBuild. He loved being outdoors and spending time with his family. Kevin loved fishing, hunting, golfing and bowling. He also loved singing and was a member of the Mitchell Barbershop Harmony Chorus, taking care of the garden and camping with the kids and grandkids.
He is survived by his loving wife, Barbara, Corsica SD; three daughters: Amy (Nick) Griffith, Tea SD, Ann (Josh) Andera, Crooks SD, Angela (Tim) Moon, Mitchell SD and one son, Jason Gardeman, Corsica, SD; nine grandchildren; brother, Mylan (Pat) Gardeman, Fremont NE; brothers-in-law: John (Mary) Geidel, Mitchell SD, Gerhard Jr. (Sandy) Geidel, Johnstown CO and Kevin Geidel and fianc, Lori Caffee, Stickney SD and numerous nieces and nephews.
He is preceded in death by his parents, Lyle and Geneva Gardeman, his father-in-law, Gerhard Geidel and mother-in-law, Adeline Geidel.