Kristin Lau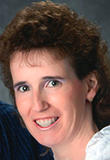 Kristin Kay Lau, 48, went to her heavenly home on Friday, November 4, 2016. Funeral service will be Saturday, November 12, 2016 at 10:00 AM at St. Peter Lutheran Church near Armour with burial following in St. Peter Lutheran Cemetery. Visitation will be Friday, November 11, 2016 from 5 - 7 PM at St. Peter Lutheran Church near Armour with a prayer service at 7:00 PM. Arrangements by Koehn Bros. Funeral Home in Armour.
Kristin Kay Lau was born March 3, 1968 to Lawrence and Eileen (Repp) Stroh in Eureka, SD. She was baptized into Christ at Eureka Reformed Church in 1968 and confirmed on April 4, 1982. She attended grade school in Eureka and Eureka High School where she was an active participant in track. After graduating from Eureka High School in 1986, she trained as an X-Ray Technician for a year at St. Joseph Hospital in Mitchell, SD. She was united in marriage to Ben Lau on September 23, 1989 at St. Peter Lutheran Church near Armour, SD. In addition to living on the farm, Kristin was an active participant in the operation of the farm. She also worked for 15 years for Fox Ridge Farms. She was strongly devoted to her family and enjoyed many family vacations. Her children were her pride and joy, and she enjoyed being part of the accomplishments in their lives. After her illness, she enjoyed watching Little House on the Prairie and I Love Lucy.
Grateful for having shared her life are her husband, Ben of Armour; 2 children: Chad (Hannah) Lau of Sioux Falls, SD and Kendra Lau and special friend, Robert Thies of Brookings, SD; and 2 brothers: Jerry (Sharon) Stroh of Aberdeen, SD and Doug Stroh of Eureka.
She was preceded in death by her parents; 2 uncles, Gideon Stroh and Earl Repp; and an aunt, Karen Iverson.