Lerry Rus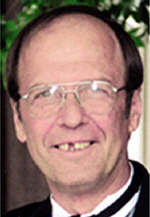 Lerry Gene Rus, 66, went to his eternal home Monday, April 17, 2017, after a courageous battle with cancer, surrounded by his family, at his home in Stickney, SD. Funeral service will be Saturday, April 22 at 11:00 am at the Stickney High School Gymnasium in Stickney. Visitation will be Friday, April 21 from 5 to 7 pm with a 7:00 pm prayer service at the Stickney High School Gymnasium in Stickney. Arrangements by Koehn Bros. Funeral Home in Stickney.
Lerry was born June 3, 1950 to John L. and Hattie (Van Voorst) Rus in Mitchell. He attended and graduated from Corsica High School in Corsica. He was united in marriage to Roann VanZee on September 14, 1970. Lerry drove for Spaans Trucking most of his life. He enjoyed camping, fishing, collecting "treasures" and attending car shows.
Grateful for having shared his life are his 5 children: Brenda (Terry) Anthony of Stickney; Connie (Randall) Kuyper of Stickney; Michael (fiance Amy) Rus of Mt Vernon; Carla (Darren) Hohn of Mitchell; and Nathan Rus of Corsica; mother, Hattie 14 grandchildren: Tyler, Aaron, Makenzie and Bailey Anthony; Tory (John) Mohnen; Whitney (Ryan) Patnoe; Brianna (Nick) Blom; Alissa Kuyper; Reed and Reagan Rus; Cole and Levi Waldhauser; and Emma and Austin Hohn; 2 great-grandchildren: Gage Mohnen and Grayson Blom; and 5 siblings: Hank (Marcia) Rus of Corsica; Arlene Vanden Hoek of Plankinton; Jack (special friend, Cheryl) Rus of Corsica; Shirley Van Voorst (special friend, Arlyn) of Rock Valley, IA; and Arnie (Wanda) Rus of Chamberlain.
He was preceded in death by his father, John L. Rus; grandparents; a sister and brother-in-law, Jeanette (Marlin) Johnson; 2 brothers-in-law: John Van Voorst and Norm Vanden Hoek; and a nephew, Jeremy Rus.