Lloyd Vanden Berge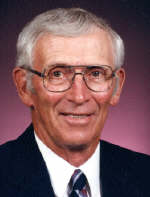 Lloyd Irvin Vanden Berge, 86, died at Good Samaritan Center in Corsica on Monday, September 12, 2016. Funeral service will be Saturday, September 17, 2016 at 10:00 AM at Harrison Community Church (North Church) in Harrison with burial following in Harrison Cemetery. Visitation will be Friday, September 16, 2016 from 5 - 7 PM at Harrison Community Church (North Church) with a prayer service at 7:00 PM. Arrangements by Koehn Bros. Funeral Home.
Lloyd Irvin Vanden Berge was born on November 1, 1929 to Isaac and Katie (Schoon) Vanden Berge on a farm in Douglas County. He died on September 12, 2016 at the Good Samaritan Society in Corsica at the age of 86. Lloyd was baptized and made profession of faith in the First Reformed Church of Harrison and remained a member there all of his life. He attended rural schools in Douglas County for most of his grade school years except for a time in 1940 when he moved with his family to Chicago. He graduated from Corsica High School in 1948. Lloyd was inducted into the United States Army on October 5, 1951 and served in Germany for 18 months.
He married Eunice Vreugdenhil on February 1, 1951 and they were blessed with two sons, Ronald and Elwood. They farmed in Douglas County until retirement. They moved to Corsica in January, 2014. Lloyd became a resident of the Good Samaritan Society in Corsica in November 2014. He served on the Iowa Township Board for many years; on the REA board of directors for 30 years and was a member of the Everson-Beukelman American Legion Post of Corsica.
He enjoyed farming, playing softball, attending sons' and grandchildren's sporting events, traveling and playing cards.
Lloyd was a loving husband, father and grandfather and will be greatly missed.
Survivors include his wife, Eunice; two sons Ronald (Judy) Vanden Berge and Elwood (Karla) Vanden Berge, both of Corsica; 5 grandchildren, Traci (Chuck) Noteboom of Rapid City, Scott (Laura) Vanden Berge of Platte, Davis (Teresa) Vanden Berge of Armour, Ryan Vanden Berge of Oacoma, Lacey Vanden Berge of Huron; seven great-grandchildren, Tyler Noteboom, Katelynn Noteboom, Kalista Vanden Berge, Abigail Vanden Berge, Carson Vanden Berge, Madison Vanden Berge, Harper Vanden Berge; one sister Evalou (Mike) Ligtenberg of Mitchell; two brothers-in-law, Edwin (Eva) Vreugdenhil of Sioux Falls and Larry (Donna) Vreugdenhil of Stickney; and a host of nieces and nephews.
He was preceded in death by his parents; sisters-in-law Berniece Riecke and Loretta Vreugdenhil.
Officiating - Pastor Gary Maas
Music - Brenda Plooster, organist
Casket Bearers - Traci Noteboom, Scott Vanden Berge, Davis Vanden Berge, Ryan Vanden Berge, Lacey Vanden Berge