Lloyd Vanden Hoek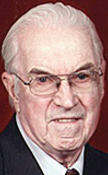 Lloyd Vanden Hoek, 88, of Mitchell, SD died Thursday, May 22, 2014 at Firesteel Healthcare Center. Funeral services will be 10:30 AM Tuesday, May 27, 2014 at First Reformed Church. Visitation will be Monday, May 26, 2014 from 6 to 8 PM at the Will Funeral Chapel with a prayer service beginning at 7:00 PM. Burial will be in Graceland Cemetery at Corsica, SD. Approximately 2:00PM.
Lloyd Vanden Hoek and his twin sister, Lois were born in Corsica, South Dakota to Arie and Anna (Dykshoorn) Vanden Hoek on February 27, 1926. Lois preceded him in death in 1938 when they were only 12 years old.
He grew up in Corsica where he met the love and strength of his life, Irene Schryvers. They were united in marriage on February 11, 1949. To this union three daughters were born; Sheryl, Marcia and Laura.
In Lloyds early years he drove truck for Tony Doorn. After Lloyd and Irene married, they farmed near Harrison and Corsica before retiring in 1988. In addition to farming, Lloyd worked part time for a few years for Corsica Sale Barn and drove school bus for Corsica Public Schools for 20 years. He took much pride in never having had an accident and watching "his bus kids" grow up.
During his retirement years he started golfing and even got a hole-in-one. He was able to play up to the age of 85, when health issues forced him to pack away his clubs.
Despite his sometimes gruff demeanor, he was totally dedicated to his wife of 65 years, his daughters, granddaughters and great grandchildren.
Lloyd was a lifetime member of the Harrison Reformed Church, Grace Reformed Church in Corsica, and First Reformed Church in Mitchell.
Preceding him in death were his parents, his twin sister, his sister Arla (Vanden Hoek) VerSteeg, and son-in-law Gary Plagmann.
Lloyd is survived by his wife, his daughters Sheryl Plagmann of Mitchell, Marcia Taylor (Jim Jarratt) of Granbury, TX, and Laura Docken (Jack Docken Jr.) of Mitchell; granddaughters Heather Mergen (Todd) of Sioux Falls, Katy Stulc (Ryan) of Rapid City, Leah Taylor (Alexander Forozan) of Berkley, CA and Cindy Docken (Barry Geiman) of Plankinton; great-grandson Aiden Mergen and great-granddaughter Willa Forozan; sister-in-law Loretta Van Genderen (Delmar) and brother-in-law Don VerSteeg (Janelle) and many nieces and nephews.