Lorraine Schryvers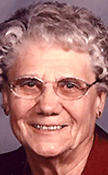 Lorraine Schryvers, age 88, of Corsica, SD died Friday, October 24, 2014 at the Corsica Good Samaritan Home in Corsica, SD. Funeral services will be 2:00 PM Wednesday, October 29, 2014 at Grace Reformed Church, Corsica, SD with burial at Graceland Cemetery in Corsica. Visitation will be from 6:00 PM to 8:00 PM Tuesday at Grace Reformed Church with a prayer service beginning at 7:00 PM.
Those who cherish her memory and celebrated her life are her three children, Connie (Merle) Brink, Bismarck, ND, Bonnie (Norm) DeLange, Corsica, SD, Lonnie (Sarah) Schryvers, Custer, SD; six grandchildren, Tera DeLange Pickart, Shawn Brink, Cammy Bosch, Travis DeLange, Trevor Schryvers and Levi Schryvers; seven great grandchildren, Jerad Bosch, Colton Bosch, Dalton DeLange, Christian DeLange, Kolby DeLange, Margaret Brink and Tommy Brink; two great great grandchildren, Jaxon and Abel; a sister, Gertrude Adams, Pierre, SD; numerous nieces and nephews.
She was preceded in death by her husband, Ray Schryvers; a granddaughter, Tera DeLange Pickart; her parents; two brothers, Orville and Lyle Plooster; and a sister, Eileen Strehlow.
Memorials may be directed to Grace Reformed Church, Corsica, SD.