Louis Reimnitz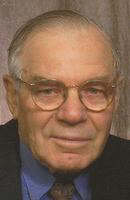 Louis Edward Reimnitz , 92, Mitchell, died Tuesday, Oct. 23, 2012, at Avera Brady Health and Rehab, Mitchell.
He was born on Dec. 21, 1919.
Funeral services will be at 2:30 p.m. Saturday at First Lutheran Church, Mitchell. Burial, with military honors, will be in Servicemenís Memorial Cemetery. Visitation will be from 6 to 8 p.m. Friday at Bittner Funeral Chapel, Mitchell, with a 7 p.m. prayer service.
He was born to Paul and Lena (Blume) Reimnitz .
After the 8th grade he trucked and farmed with his dad.
He joined the US Army in 1939 and served in the South Pacific.
He married Doris Blume on June 8, 1947, and they farmed near Corsica. He served on many Co-op Boards, church council, was a member of the DAV, VFW, American Legion and was an insurance adjuster. He retired from farming and moved to Mitchell in 2004.
He is survived by his wife, Doris; their six children: Lois (Glenn) Storm, Corsica; Richard Reimnitz, Corsica; Mavis (Dick) Rath, Bozeman, Mont.; Sherry (John) Archer, Sioux Falls; Boyd (Kay) Reimnitz, Mitchell; Wayne Reimnitz , Mitchell and their families; his siblings; and numerous nieces and nephews.
He was preceded in death by four brothers; a sister-in-law; two brothers-in-law; and a granddaughter.