Margaret Plooster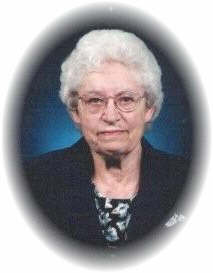 Margaret Plooster, 98, died on Sunday, January 30, 2011 at the Good Samaritan Center in Corsica. Funeral service will be Tuesday, February 1, 2011 at 2:00 PM at the First Reformed Church in Harrison with burial following in the Harrison City Cemetery in Harrison. Visitation will be Tuesday, February 1, 2011 from 1 - 2 PM at the First Reformed Church in Harrison. Arrangements by Koehn Bros. Funeral Home in Armour.
Margaret Plooster was born on June 24, 1912, to Albert and Annie (Vanden Berge) De Vries in Douglas County, SD. She married Lester Plooster on July 30, l937, in Artesia, California. She worked for a few years in a hospital in California. After moving back to South Dakota, she farmed with her husband in Douglas County until retirement in 1980. Lester died on January 24, 2011. She was a member of the First Reformed Church and Ladies Aide in Harrison. They moved to Harrison where she found enjoyment in gardening, quilting and other handiwork. In 2005 they moved to Leisure Living in Corsica. She lived at The Good Samaritan Society for the past three years where she died Jan. 30, 2011 at the age of 98.
Survivors include children: Robert (Gloria) Plooster of Harrison, Dorothy (Roger) Mahler of Belvidere, Illinois, Merlin (Mary) Plooster of Albuquerque, New Mexico, and Dennis (Elaine) Plooster of Corsica; sisters: Esther Nixon of Phoenix, Arizona and Clara Kiel of Lyndon, Washington; brother-in-law: Fred De Boer; and sisters-in-law: Evelyn Meeter, Mildred Joffer, Everine Plooster and Ruby De Vries.; 13 grandchildren and 17 great grandchildren and numerous nieces and nephews.
She was preceded in death by her husband, Lester on January 24, 2011; her parents, brothers: Arie DeVries, Ernest DeVries, and Adrian DeVries; sisters: Alida DeBoer and Clara DeVries (in childhood).
Officiating:
Rev. Steve Hayes
Rev. Dean Meeter
Music
Marlene Plooster, organist
Heide Plooster, soloist
Vicki Pickart, pianist
Casket Bearers
Kristi Nielson, Jennifer Johnson, Vicki Pickart, Ryan Plooster, Mike Plooster, Heidi Plooster, Kristen Mahler, Mark Plooster, Summer Ring, Jeff Plooster, Leslie Plooster, Paul Plooster, Gina Plooster
Memorials may be directed to the Harrison City Cemetery Associations in lieu of flowers