Marietta Bollock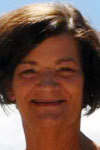 Marietta Jean Bollock, 58, Mount Vernon, died Saturday, Jan. 28, 2011, at Avera McKennan Hospital, Sioux Falls, of cancer.
Funeral services will be at 10:30 a.m. Thursday at New Holland Christian Church, New Holland, with Brad Veurink officiating. Burial will be in New Holland Cemetery. Visitation will be from 6 to 8 p.m. Wednesday at Bittner Funeral Chapel, Mitchell, with a 7 p.m. prayer service.
She was born on Nov. 11, 1952, in Platte to John and Gertrude (Overweg) Timmermans.
She grew up and attended New Holland Christian Grade School and Dakota Christian High School.
On March 19, 1970, she married Von Denning in New Holland.
She worked as a clerk at Douglas County Livestock for several years and then became a home visitor for Head Start.
On Feb. 20, 1982, she married George Bollock in Rapid City.
She worked for Avera Health Systems as a nursing assistant for 17 years until her health forced her to retire in October 2010.
She also volunteered for South Dakota Lions Eye Bank, where she was an advocate speaker for organ donation.
She is survived by her husband, six children: Vonda Broer and husband Clint, Onawa, Iowa; Eric Denning and wife Sherri; and Clay Bollock, all of Mount Vernon; Ward Denning and wife Tammie, Lennox; Lee Bollock and wife Brittani, Omaha, Neb.; and Clint Bollock, Harrisburg; two stepdaughters: Paula Deinert, Sioux Falls; and Connie Dyke and husband Dennis, Colorado Springs, Colo.; 17 grandchildren, two great-grandchildren, a sister, Marlene Daale and husband Ron, Hawarden, Iowa; two brothers: Allen Timmermans and wife Sharon; Sioux Falls; and Alvie Timmermans and wife Lonnie, New Holland; and many nieces and nephews.
She was preceded in death by her parents, a brother-in-law, Dwayne Breukelman; and a nephew.
Memorials may be made to the S.D. Lions Eye Bank, 4501 W. 61st St. North, Sioux Falls, S.D. 57107.