Marjorie Schryvers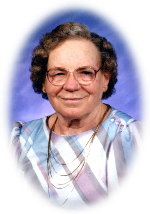 Marjorie Schryvers, 84, died at Firesteel Healthcare Center in Mitchell on Friday, March 9, 2018. Funeral service will be Monday, March 12, 2018 at 2:00 PM at Harrison Community Church (North Church) in Harrison with burial following in Harrison City Cemetery. Visitation will be Sunday, March 11, 2018 at Koehn Bros. Funeral Chapel in Corsica with a prayer service at 6:00 PM.
Marjorie Schryvers was born on December 26, 1933 to Gerrit and Winnie (Van Dam) Mellink in Todd County, SD. She attended country school in Todd County. After her mother's death in 1942, the family moved to the Harrison area where she attended country school. After her father's death in 1945, she lived with various relatives in the Harrison area.
On June 7, 1963, she was united in marriage to Roy Schryvers in Harrison. Together, they farmed north of Harrison. Roy died on February 25, 1987. Marjorie remained on the farm until moving to Harrison in 1994. She was an active member of Harrison Reformed Church, Ladies Aide, Masters Workers, and taught Sunday School. She enjoyed playing cards. She moved to Prairie Crossings Assisted Living in Mitchell in May of 2009. In July of 2017, she moved to Firesteel Healthcare Center in Mitchell where she died on Friday, March 9, 2018 at the age of 84.
She is survived by her son, Donavon Schryvers of Corsica, SD, daughter, Pam (Cory) Webster of Loveland, CO, 6 grandchildren, and 4 great-grandchildren. She was preceded in death by her parents, husband, a sister, Cornelia Lefers, 2 brothers, Bernard and Merlin, and brother-in-law, Robert Lefers.