Minnie Mulder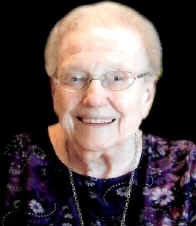 Minnie Mulder, 107, of Corsica, SD passed away Saturday, September 14, 2019 at the Good Samaritan Society – Corsica. Funeral Services are 10:30 A.M. Friday, September 20, 2019 at the New Holland Christian Reformed Church. A Committal Service will follow at the New Holland Cemetery. Visitation will be held at the church from 9:30 – 10:30 A.M. prior to services on Friday.

Minnie (Keuning) Mulder was born on December 28, 1911 to Simon and Helen (Van Zee) Keuning on the family farm near New Holland, SD. She attended New Holland Christian School and was united in marriage to Edward Mulder on July 28, 1933 at her parent's home. Minnie provided childcare and was a housekeeper for several families. She was a busy homemaker, offering room and board to various Christian School teachers; as well as writing the New Holland News column weekly for 75 years in The Corsica Globe and for 50 years in the Platte Enterprise.

Minnie was a member of the New Holland Christian Reformed Church, active in the Ladies Aid, Hosanna Club, Bible Study and served as a Sunday School Teacher. She enjoyed reading, crocheting, quilting, baking and playing games – especially Scrabble.

Her positive attitude and faith that God is in complete control of her life has seen her through many times. Even the numbers of years of her life are in God's hands. "It was all planned before the foundations of the world. That's really all I can say," Minnie said. "It was all by God's grace." She will be fondly remembered as a woman of faith, a positive example to many, and loved by all.

Grateful for having shared in Minnie's life: two children: Sharon (Dalwyn) Vanden Hoek of Rapid City, SD and Kenneth (Beth) Mulder of Grand Rapids, MI; a daughter-in-law, Joan Mulder of Platte, SD; 12 grandchildren; several great grandchildren and great-great grandchildren; along with nieces and nephews.

Minnie was preceded in death by her husband, Edward Mulder (1974); a daughter, Helen DeVries (1998); a son, Arnold Mulder (2015); her parents, Simon and Helen Keuning; two sisters: Jennie (Harry) Munneke and Rena (Pete) Boer; parents-in-law, Albert and Elizabeth Mulder; in-laws: Gertrude (Abe) Beukelman, Lena (Adrian) Reitveld, Elmer (Alberta) Mulder and Ann (Earl) Wood.

Memorials in Minnie's honor may be directed to: Dakota Christian School, 37614 SD Hwy 44, Corsica, SD 57328.