Orville De Boer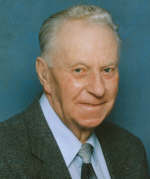 Orville K. De Boer, 92, of Corsica, SD passed away Tuesday, December 1, 2015 at the Good Samaritan Society in Corsica. Funeral Services are 2:30 P.M. Saturday, December 5, 2015 at the First Reformed Church in Harrison, SD. A Committal Service will follow at Harrison Cemetery. Visitation will be held at the church from 5:00 – 7:00 P.M. Friday, December 4, 2015 with a 7:00 P.M. Prayer Service. Mount Funeral Home of Platte, SD is assisting with arrangements.
Orville Kenneth De Boer was born on November 21, 1923 to James J. and Nellie (Lefers) De Boer on the family farm in rural Corsica, SD. The same farm where he remained his entire life, in an area they referred to as "Garden Valley". He attended Garden Valley Country School and went on to a career in farming. On December 28, 1949 Orville was united in marriage to Sarah Wolbrink at her parent's home near Aurora Center, SD. He farmed and performed custom shelling in the Garden Valley area.
Orville was a member of the First Reformed Church in Harrison, SD and also served as a Deacon. He was a good mechanic and was able to do the maintenance of his own machinery. Orville loved spending time with family, especially his grandchildren.
Grateful for having shared in Orville's life: his wife of nearly 66 years, Sarah De Boer of Corsica, SD; three children: Darrell (Marjean) De Boer of Corsica, SD, Merlin (Lorraine) De Boer of Sioux Falls, SD and Bonnie (Larry) VanderLey of Corsica, SD; nine grandchildren: Roxy (Shawn) Rus, Kenneth (Nikki) De Boer, Cindy (Joel) Watters, Kerry (Jourdan) VanderLey, Brian (Katie) VanderLey, Luke (Rachel) VanderLey, Amber VanderLey, Tim VanderLey and Seth (Fiancé, Arianna) VanderLey; 15 great grandchildren; two sisters-in-law: Eltha Wolbrink and Lorraine Wolbrink; along with many nieces and nephews.
Orville was preceded in death by: his parents; a sister, Genevieve Baas; two brothers: Fred and Vernon De Boer; as well as numerous brothers and sisters-in-law.