Orville Vanden Bos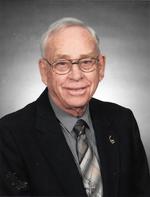 Orville J. Vanden Bos, 91, of Stickney, SD passed away Sunday, November 29, 2015 at Avera Dougherty Hospice House in Sioux Falls, SD. Funeral Services are 10:30 A.M. Friday, December 4, 2015 at the New Holland Christian Reformed Church. A Committal Service will follow at the New Holland Cemetery. Visitation will be held from 5:00 – 7:00 P.M. Thursday, December 3, 2015 at Mount Funeral Home in Platte with a 7:00 P.M. Prayer Service.
Orville J. Vanden Bos was born on January 15, 1924 to Dirk Richard and Marie (Van Genderen) Vanden Bos at a farm southwest of Stickney, South Dakota. He attended Pattison School through 8th grade.
On January 15, 1945 he married Adeline Van Zee of Harrison, South Dakota. To this union five children were born. Leon Dale (Patty Sowell), Sioux Falls, SD, Linda Lee Vanden Hoek, Corsica, SD, Leslie Dean, (Marilyn McQueen) Sturgis, SD, Lanetta Lou, (Mrs. Ken Van Zee) Armour, SD and Ladene Rae (Mrs. Terry Veldhouse), Sioux Falls, SD. Orville and Adeline were foster parents to many children. Three Native American children, Gordon and Raymond Quilt and Clyde Johnson lived with the family for many years.
Orville farmed in the Aurora Center area all his life. He served on the local township and school boards and Dakota Christian High School Board. He attended Aurora Reformed Church during his youth and after marriage to Adeline became a member of the New Holland Christian Reformed Church. Serving on the council, teaching Sunday School and acting as Sunday School superintendent were some of his responsibilities.
Orville was a devout believer in the power of Jesus' saving grace and ministered to children under the auspices of The Lay Renewal Institute and the Presbyterian and Reformed Renewal International for 28 years. Lake Andes Native American Sunday School at Lake Andes, SD was a focus of their faith and they ministered to the children on a weekly basis for 35 years.
His family of 16 grandchildren, 29 great-grandchildren and 4 great-great grandchildren mourn his passing but have been blessed by his love for the Lord and his kindness to everyone he met.
He was preceded in death by his wife, Adeline (Apr. 19, 2014), his parents, Richard and Marie (Van Genderen) Vanden Bos, a sister, Elmira Van Zee, three brothers-in-law, one son-in-law, Rodney Vanden Hoek, two grandchildren, and two foster sons.
Memorials in Orville's honor may be directed to: The Luke Society, 3409 S. Gateway Blvd., Sioux Falls, SD 57106 or Native American Sunday School of Lake Andes, SD, c/o New Holland Christian Reformed Church, PO Box 3, New Holland, SD 57364.