Hariena "Rena" Van Peursem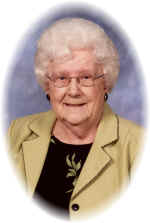 Hariena "Rena" Van Peursem, 101, died at Good Samaritan Center in Corsica on Sunday, October 12, 2014. Funeral service will be Thursday, October 16, 2014 at 10:30 AM at Grace Reformed Church in Corsica with burial following in Graceland Cemetery in Corsica. Visitation will be from 9:00 - 10:30 AM at Grace Reformed Church in Corsica on Thursday, October 16, 2014. Arrangements by Koehn Bros. Funeral Home in Armour.
Hariena Van Peursem was born on December 15, 1912 to Teunis and Jessie (Kok) Groeneweg in Winnie, TX. She grew up and attended school through grade 8 near Stickney, SD. She worked various places and made profession of her faith at Grandview Reformed Church. She married Albert Van Peursem on November 29, 1933. They farmed between Armour and Corsica until Albert was injured, after which they moved to an acreage northeast of Corsica. They moved to Corsica in 1960 where they operated a milk delivery route. Albert died on July 7, 1967. Hariena continued to deliver milk until 1979 when she moved to an apartment in Corsica. She worked as a waitress at Corsica Sale Barn for over 20 years and Corsica Bake Shop for several years. She was a member of Grace Reformed Church, various Ladies Bible Study Groups, and Graceland Cemetery Association. She enjoyed reading, traveling, coffee with friends and family, Birthday Club, and Card Club. Hariena moved to Leisure Living in Corsica in 2007. On May 25, 2012 she moved to Good Samaritan Center in Corsica.
She is survived by 2 children, Elaine (Bud) Wiebenga of Springfield, SD and Dean (Shirley) Van Peursem of Platte, SD, daughter-in-law, Hannah (Darrell) De Heer of Sioux Falls, SD, brother, Ben (Marlys) Groeneweg of Rock Valley, IA, 7 grandchildren, 16 great-grandchildren, and 2 great-great-grandchildren.
She was preceded in death by her parents, husband, Albert, son, Lyle on June 4, 2006, granddaughter, Marcia Sybesma, son-in-law, Stanley Sybesma, 4 brothers, Adrian, Arend, Henry, and Tony, and sister, Grace Kuyper.